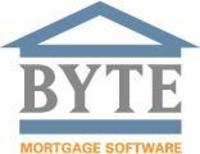 The addition of Electronic Document Management to our core software represents another step in the continuing evolution of our products
Kirkland, WA (PRWEB) March 16, 2009
Byte Software, an innovative leader in secure, affordable loan origination software for banks, credit unions and mortgage brokers announced today the addition of Electronic Document Management to its BytePro software at the Mortgage Bankers Association's National Technology in Mortgage Banking Conference in Las Vegas, Nevada. Electronic Document Management will be available in both BytePro Enterprise and BytePro Standard as part of a major software release coming this spring and will be included in the core software without additional fees for current Byte Software customers.
BytePro will store the electronic documents on the customer's network, not on a remote server accessible only via the Internet. This configuration results in greater control over the documents, faster document access, higher system availability, low overhead, and ultimately greater productivity.
Loan documents can be attached to the BytePro loan file from a variety of sources including e-mail, fax, scanners, or by simply dragging-and-dropping from a folder on the hard disk. Source documents can be in any common format, including PDF, TIFF, JPEG, HTML and DOC; the documents are ultimately stored in a PDF format. Once documents are stored within BytePro they can be viewed, printed, or securely e-mailed to the borrower or investor.
"The addition of Electronic Document Management to our core software represents another step in the continuing evolution of our products," states Joe Herb, General Manager of Byte Software. "We are particularly pleased to be able to include the feature in our core software at no additional cost, which will result in higher adoption rates and yield significant savings for Byte Software customers."
About Byte Software
Byte Software, founded in 1985 by mortgage professionals, is a leading provider of mortgage software solutions for banks, brokers and credit unions. Byte Software products streamline the processes used by originators and processors, allowing them to focus on generating business and increasing revenues. Byte Software is a wholly-owned subsidiary of CBCInnovis, a leading provider of real estate settlement services and fraud prevention solutions. To learn more about Byte Software visit bytesoftware.com, or call 800.695.1008. For more information on the next release, please contact Byte Sales at 800.695.1008 or email sales (at) bytesoftware.com.
###