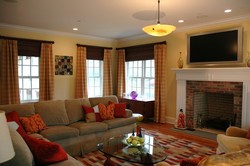 As I think about what people really need right now, in terms of the economy, and what I can offer, blogging about design seemed to be the most sensible way of helping people help themselves in terms of decorating and design
Larchmont, NY (PRWEB) March 16, 2009
Gaita Interiors, an interior design firm servicing the Westchester County area, has launched a blog is intended for those looking to improve their living environment without incurring heavy costs.
"As I think about what people really need right now, in terms of the economy, and what I can offer, blogging about design seemed to be the most sensible way of helping people help themselves in terms of decorating and design," said Leona Gaita of Gaita Interiors.
"I want to show people the inspiration for my own creativity, and teach them how they can apply these simple principles to their own lives and their own homes," continued Gaita. "Most often people have an idea of what they want as far as a 'look', but are unsure of how to go about accomplishing that. We want to give the average person the tools they need to beautify their living environment for themselves, without spending a lot of money doing so."
Gaita Interiors has been a staple of the local community for over 40 years, servicing Larchmont, Scarsdale, Westchester County and the New York metropolitan area. "We've become expert at everything from space planning to color fabric selection, to full interior design. I'm now interested in educating people on how to do some of these things for themselves, to enrich their home and their lives with beauty and elegance."
Gaita's blog can be found at http://www.gaitainteriors.com/blog.
###