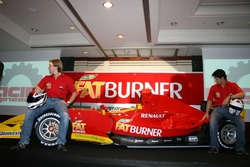 841, while Dani repeated his morning place with a time of 1'08
Tallinn, Estonia (PRWEB) March 17, 2009
During the second day of testing, running on the 2A track configuration, Fat Burner Racing Engineering continued working on its planned program, focusing on the drivers' familiarization with the team and the 2009 car, which has a more powerful engine than last season, as well as evaluating all the developments done during the winter period.
Rookie Dani Clos finished second behind Grosjean (1'09"015) in the morning session after having completed a total of 43 laps and registering his best time at 1'09"047. His team-mate Lucas Di Grassi was sixth, setting his best time at 1'09"180.
Although lap times are not part of this week's plans, both Dani and Lucas continued showing an amazing pace during the afternoon session while carrying on to focus on their respective test programs. At the end of the day, Lucas topped the timesheets, setting a new GP2 track record for the A2 configuration, with a lap time of 1'08"841, while Dani repeated his morning place with a time of 1'08"961, finishing the session in an excellent second position.
Both Di Grassi and Clos were happy with the results. Andrew Ferguson, Racing Engineering's chief engineer, believes that the team is doing very well: "These first two days of testing are quite positive as results go. But more importantly, the work over the winter period has proven very positive as far as car development for the upcoming season, which will include, among other things, challenging new tyre compounds. We will continue to push and develop during the rest of the pre-season testing."
Published by: KC Grupp and Corpore.
###