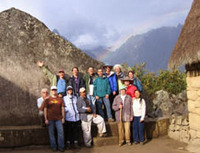 New Milford, NJ (Vocus) March 17, 2009
Spirit Journeys is excited to announce the launch of its SpiritFund donation campaign. Spirit Journeys is a spiritual gay travel organization and SpiritFund is a natural extension of their mission.
SpiritFund is a scholarship program designed to help make it possible for people to attend retreats or workshops who would not be able to do so without the fund. Many people have experienced the trauma of suddenly losing a partner, or have had dramatic shifts in employment or health. During such times, extra expenses might limit access to the sort of healing work Spirit Journeys offers. There are many others who could also benefit from such a fund: young people just starting their "working" lives, couples with children and only one income, those that currently have a low income, etc.
The SpiritFund scholarship program is funded by donations from individuals and businesses. Donations can be made on-line at the SpiritFund web page. Since SpirtFund donations are not yet tax deductable, Spirit Journeys offers an incentive to those that make donations.
Spirit Journeys will credit donators with 10% of the amount they donate. This 10% is not deducted from the donation, can be used toward any future Spirit Journey event and has no expiration date. Every time a donation is made, more money is credited to that Spirit Journeys account! In addition to the 10% donor incentive, Spirit Journeys will add an additional $50 to all awarded scholarships. Donor names and all other information will never be disclosed without their written permission.
The number of scholarships available and the value of each scholarship will be dictated by the amount of the donations made to SpiritFund. Scholarships will be awarded primarily based on need. The secondary consideration is time of application. Spirit Journeys will be working on a first come, first serve basis. After applicants fill out the scholarship request form, they will have two phone interviews. One of the phone interviews will be conducted by a Spirit Journeys staff member and the other interview will be by a volunteer.
There will be no forms to fill out or documentation to submit because the entire process is honor-based. After both phone interviews are complete, the interviewers will discuss the application and the applicant will be contacted. Scholarship applicant and recipients' names and all other information will never be disclosed without their written permission.
Scholarships are currently only available for Spirit Journeys' Retreats or Workshops, but not their Journeys or Coaching. If someone wants to financially help someone else to attend a Journey, or any event, Gift Certificates are available.
Spirit Journeys will issue a SpiritFund financial statement in its monthly newsletter.
For additional information on SpiritFund or Spirit Journeys' special gay vacation options, contact Howie Holben or visit http://www.spiritjourneys.com.
About Spirit Journeys:
Spirit Journeys offers gay travel, vacations, retreats and workshops with a spiritual focus, and unique gay retreat and gay vacation options. Call (800) 754-1875 to learn more about Spirit Journeys.
###