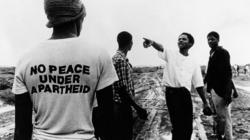 As filmmakers and people trying to create the right media tools for them, we have been under funded and have had such a lack of institutional support . . . (the Producers Institute) is the most support we've received in twelve years. And it has been incredible.
San Francisco, CA. (PRWEB) March 18, 2009
Eight documentary teams have been selected to develop interactive Web, mobile, multimedia, and game projects at the Producers Institute for New Media Technologies at the Bay Area Video Coalition (BAVC) in San Francisco from May 29 - June 7.
Projects selected for 2009 include stories from local, national, and international producers on a wide range of social justice topics including racism and apartheid, public health and the environment, human rights, and the global food crisis:
AMERICAN MEAT
Alejandro de Onis
In the documentary "American Meat," producer Alejandro de Onis and director Graham Meriwether explore how the agricultural industry has brutalized the food production process, severed the source of food from consumers, and become America's #1 polluter. De Onis and his team plan to bring farmers and communities to a "digital dinner table" by integrating the film within an e-commerce/social networking context. Through an innovative, intelligent web-based market place for local food called Harvest Cloud, consumers will be able to easily source and purchase local food, connect with food producers, and help local food movements proliferate and profit in the hands-and through the stomachs-of the public.
THE ELDERS PROJECT
Marc Boothe
"The Elders Project" is a major cross-media project that will engage intergenerational participants using a combination of photography, oral history, video, spoken word, text and interactive digital platforms to document and preserve the untold stories of the first generation of African-Caribbean settlers who came to Britain in the early 50's. The Elders Project will provide a voice to under-represented young people and elders both in the UK and the US, engaging new, transitional audiences with innovative ways to tell their stories. The project will create both live physical and virtual spaces where participants can experience and create content through a remix in the tradition of 'call and response' in a unique cultural mashup. Through a partnership with the Tate Modern, this ambitious project will incorporate a major photographic exhibition, a social networking platform and content management tools. Marc Boothe is the Executive Director of B3 Media, one of the UK's leading creative hubs for emerging black and minority ethnic artists and producers.
G.COM
Corey Tong
Transcending social, cultural, linguistic, generational and national borders, G.com is a multi-media, multi-platform, global channel and web portal - an intimate digital storytelling forum by, for and about international LGBT culture. G.COM will include professionally produced original content, including a documentary series featuring international news, social justice and public interest stories from global LGBT communities, along with user-contributed stories uploaded from queer artists and activists around the world. Additionally, the website will include aggregated resources and networks within an interactive map interface that will link LGBT NGOs and human rights organizations to each other, as well as to media and tools relevant to their work. Producer Corey Tong is developing this project with Emmy & Academy Award nominated director Johnny Symons.
HAVE YOU HEARD FROM JOHANNESBURG
Connie Field
Have You Heard From Johannesburg (HYHJ) is a new a six-part documentary series that tells the story of the global movement that took on South Africa's apartheid regime and reveals how everyday people helped bring one of the most brutally repressive political systems in the world to its knees. Pulling together the many threads of this global story for the first time in any medium, "Have You Heard From Johannesburg" is an inspiring example for citizens and movements across the world. At the Institute, Academy-Award winning director Connie Field and her team will build an interactive, educational platform where drag-and-drop media "modules" created from "Have You Heard" footage will connect to blogs, online videos, maps, social networks (Facebook, Twitter, etc), RSS news and digital photo feeds to create a dynamic, participatory lesson planner and civic engagement tool.
HOPE AND HIGH WATER
Peter Nicks
More than one third of all Americans have no health insurance. And as more Americans lose their jobs, public hospitals are experiencing an increase in people seeking care. Hope and High Water is a documentary about a young band of public health executives at Highland Hospital in Oakland, California, persevering despite daunting systemic and financial obstacles. At the Institute, Emmy Award winner Peter Nicks and his team will develop Public Medicine/Public Lives, a hybrid, multiplatform public media experience that will bring the film into the conversations at center of the public health crisis, including "face-wall"-style video exhibitions in Emergency Rooms, public Twitter stations that will include reports from people living without health insurance, and a unique online portal that will distribute these stories nationally and become an archive for the testimonials that will highlight the urgency of the national dialogue around health care. The Executive Producer for this project is Academy Award winner Rob Epstein.
MINE
Jennifer Gilomen & Sally Rubin
To keep up with our increasing demand for energy, humankind is mining the earth for natural resources and putting communities worldwide at risk. Through an intimate, human story, the documentary "MINE" tells the story of a town deep in the Appalachian mountains of eastern Kentucky, where coal is king. Through an integrated media campaign that includes a podcast series disseminated through Appalachian Voices' "Most Endangered Mountains" Google Earth collection, educational curriculum and community action kits, "MINE" will have a deep impact with a diverse audience. At the Institute, Co-directors Jennifer Gilomen and Sally Rubin will build a 3D Virtual Mine in order to bring the experience of mountaintop removal mining to a new level, empowering communities that now live in the shadows of extractive industries.
SANDS OF SILENCE
Chelo Alvarez-Stehle
In the documentary "Sands of Silence," we learn some gruesome facts: there are 27 million slaves in the world today; and human trafficking is a global business that yields $9 billion annually. Every year in the United States, 18,000 women and children are trafficked and turned into sex slaves. Sexual slavery is a daily reality in our own neighborhoods: immigrants are lured into fake jobs that turn are merely a trap leading to enslavement; children are sold by their relatives to sexual predators during weekend visits; and teenage girls are forced by their boyfriends to turn tricks in locked motel rooms. At the Institute, Award-winning producer Chelo Alvarez-Stehle and her team will develop "SOS Slaves", a unique, avatar-based video game to raise awareness about global human trafficking. In a geo-located, media-rich environment, players will learn how to avoid being sold and exploited, and how to identify a captive person, call a hotline, alert authorities, and get involved in the issues on the ground in their own communities.
THE WAY WE GET BY
Gita Pullapilly
"The Way We Get By" is an intimate story of three senior citizens in America as they struggle with growing old and rediscovering their reasons for living. Dedicating their lives to greeting almost 800,000 troops at a tiny airport in Maine, Bill Knight, Joan Gaudet, and Jerry Mundy find the strength to overcome their personal battles and demonstrate the meaning of community during a time of need. At the Institute, Gita and her team will develop a mobile interface and social networking tool using MMS and Flash Lite to enable troops and the military families, veterans, and other visitors to participate in a robust, global support network - featuring customized e-greetings and an interactive, searchable archive. Producer Gita Pullapilly is an award-winning television journalist and Fulbright Scholar whose stories have aired on CBS, CNN, and ABC.
Major funding for the Producers Institute is provided by the John D. and Catherine T. MacArthur Foundation. Additional foundation support for the Producers Institute is provided by The Nathan Cummings Foundation, The William and Flora Hewlett Foundation, and The James Irvine Foundation.
The Producers Institute for New Media Technologies connects independent producers and their socially relevant content to emerging models of storytelling and distribution. Through the Institute, documentary production teams from across the US, Europe, and South America spend ten days at BAVC working with technologists, designers, storytellers, and programmers to develop new models of participatory media. Mentors from leading technology companies, including Apple, Adobe, Google, Mobile Active, Phantom Compass, Pentura, Map Office and others, work in teams to design and develop working prototypes, which are presented to international funding and review panels at the end of the Institute.
Projects from past Institutes include: a virtual, 3D Guantanamo Bay prison in Second Life; a national hate crime social network and Google Earth mash-up based on the national PBS broadcast series "Not In Our Town"; an interactive web portal for the international justice movement incorporating live twitter feeds and SMS based on the award-winning film "The Reckoning."
Patrice O'Neill, producer of" Not In Our Town" has said of the Institute, "As filmmakers and people trying to create the right media tools for them, we have been under funded and have had such a lack of institutional support . . . (the Producers Institute) is the most support we've received in twelve years. And it has been incredible."
The Bay Area Video Coalition (BAVC) was founded in 1976 to support freedom of expression by making advanced media technology accessible to independent media makers and nonprofits. We teach. We empower creative expression. We preserve the past. And we develop future media makers and innovators. BAVC's mission is to be the nation's most advanced noncommercial media access and training center. Visit BAVC on-line at http://www.bavc.org.
###