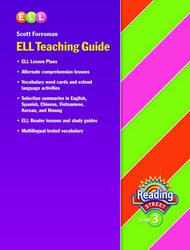 They are reading better. They're able to pronounce the words and read faster. I'm seeing it from the DIBELS--constant repetition of summaries and readers helping with their fluency.
Glenview, IL (PRWEB) March 17, 2009
Today, there are five million students enrolled in U.S. classrooms across the nation as English language learners, with a significant percentage of them struggling to keep up academically with their English-speaking peers. English learners continue to drop out of schools at an unprecedented rate, but independent research now indicates that an innovative curriculum for elementary students significantly improves students' reading ability while also enhancing their English language skills -- a finding that could potentially reverse the disturbing drop-out trend.
The English language learner (ELL) components of Pearson's Reading Street, a research-based reading program for pre-kindergarten through sixth grade, were recently studied by independent research firm Magnolia Consulting, LLC. Magnolia's final report, A Study of Pearson's Reading Street ELL Component, indicates that elementary school students using the ELL materials as a part of the Reading Street program made "significant gains" in reading skills and in English language development. Of even greater importance, multiple students were able to exit the ELL program after just one year of exposure to these components; and these students became reclassified as "Fluent English Proficient" (FEP), as defined by the U.S. Department of Education.
Magnolia Consulting researcher and report co-author Dr. Carol Haden said, "We documented that English language learners who used Reading Street's ELL components made significant gains on standardized test scores in oral reading fluency and language proficiency."
Tests administered included the Dynamic Indicators of Basic Early Literacy Skills (DIBELS) assessment, AIMSweb, the Massachusetts English Language Assessment-Oral (MELA-O) and the Arizona English Language Learner Assessment (AZELLA). Results examples:

Students using Reading Street ELL materials demonstrated significant gains in reading fluency on the DIBELS Oral Reading Fluency (ORF), with mean scores for second-grade students more than doubling, an increase of 46.8 points, over the school year. Third-grade student scores increased 36.9 points, a gain of 62 percent. These gains are further enhanced by the fact that the percentage of second-grade students considered high risk decreased from 36 percent to 27 percent and the low-risk student population rose from 24 percent to 40 percent.
English learners taking the AZELLA made statistically significant gains in spoken language skills by using Reading Street and its corresponding ELL materials. At the beginning of the 2007-2008 school year, 19 percent of studied second-graders were classified as having basic English competency, while 81 percent were classified at the intermediate English language proficiency level. By year's end, 44 percent of students improved to the intermediate level and 56 percent were classified as proficient, enabling them to enter a mainstream classroom the next year and be certified as "Fluent English Proficient."
"Pearson's emphasis on independent efficacy studies allows us to learn more about what helps students succeed in school. Magnolia's research confirms that English language students can learn effectively when provided with the right tools to focus their reading skills and vocabulary development in connection with the main reading program," said Marcy Baughman, Pearson's Director of Academic Research. She added, "Pearson has committed to the development and creation of research-based materials to help ensure we are effective at shrinking the achievement gap for English learners."
The report's co-researcher and co-author Dr. Stephanie Baird Wilkerson said, "An equally promising outcome of the study was the consistently high ratings the materials received from the implementing teachers. Teachers found the Reading Street ELL components to be particularly effective in supporting oral language development, vocabulary development, and in engaging student interest and motivation in reading and speaking, all key elements of an effective English learning program."
Teachers reported that the Reading Street materials were highly effective, useful, valuable and engaging, connecting students to their classroom instruction and reinforcing reading skills and language acquisition. Study results show that teachers perceived the majority of students -- 66 percent -- to be highly engaged with the ELL materials.
Teachers also said that the materials were easy to implement and straightforward to incorporate into their workflow. Teachers gave the top rating to the Reading Street ELL posters, especially valuable for engaging students in classroom discussion, assessing and building vocabulary, and developing writing skills. They also attributed high scores to the ELL Teaching Guide, specifically the Picture It! activity, lessons related to the readers, and the vocabulary and word card activities. And all teachers indicated that they used and liked the section in the back of the ELL readers with questions for discussion and suggestions for writing and extending language.
One participating teacher said of her students, "They are reading better. They're able to pronounce the words and read faster. I'm seeing it from the DIBELS--constant repetition of summaries and readers helping with their fluency."
Another teacher commented, "Students keep seeing the same words, even while learning something new. They incorporate the words into their vocabulary. There is a lot of reinforcement of concepts."
Developed by a team of national reading and ELL experts and founded on scientific research, Pearson's Reading Street focuses on priority skills that are designed to help teachers build readers through a wealth of reliable print and digital teaching tools for instruction, pacing, assessments, and grouping. The ELL materials offer additional support for teachers assisting students with their reading and English acquisition skills.
Pearson's English Language Learning and Literacy expert Jesus Cervantes said, "Pearson is dedicated to breaking the disturbing cycle of ELL dropouts. The Reading Street components were specifically designed to tackle this problem head-on. The design of these learning materials was based on scientific research; now this new efficacy study is further validation that Reading Street has a dramatic impact on English learners' reading, comprehension and speaking abilities." Cervantes added, "ELL students, like their peers, are benefiting from Reading Street's differentiated instruction, which personalizes learning and prioritizes skill instruction at each grade level, helping teachers focus on the right skill, at the right time, for every student."
Cervantes noted that states are estimating more than 56,000 new English language learner teachers will be needed in the next five years. He emphasized Pearson's continued investment in research-based programs for 21st century educators that include intervention tools to customize learning for each student as well as providing professional development for teachers.
Magnolia evaluators examined five teachers and 84 students in four elementary schools in two school districts using pullout and whole-class Structured English Immersion programs during the 2007-2008 school year.
More than five million students in 10,000 schools across America are learning with the Reading Street program. For more information, visit Reading Street or http://www.pearsonschool.com.
About Pearson - Pearson is the global leader in educational publishing, assessment, information and services, helping people of all ages to learn at their own pace, in their own way. For students preK-12, Pearson provides effective and innovative curriculum products in all available media, educational assessment and measurement for students and teachers, student information systems, and teacher professional development and certification programs. Pearson's respected brands include Scott Foresman, Prentice Hall, AGS, PowerSchool, SuccessMaker, TeacherVision and many others. The company's comprehensive offerings help inform targeted instruction and intervention so that success is within reach of every student. Pearson's other primary businesses include the Financial Times Group and the Penguin Group. http://www.pearsonschool.com.
Contact: 800-745-8489
###