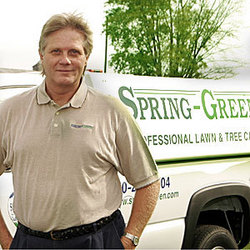 Each variety of grass, whether it's bluegrass, ryegrass, Bermuda grass or centipede, has different practices that satisfy the plant's needs and improve overall growth. Cultural practices are what homeowners do to help ensure the plant's successful growth and care
Plainfield, IL (PRWEB) March 17, 2009
Plainfield, IL -- Individualized cultural practices and insect controls are two ways homeowners can ensure lush, green grass this spring and summer, according to two newly released podcast episodes from Spring-Green's popular Lawn Talk series.
The theme of these two newly released episodes is that different varieties of grass attract different insects and require a certain lawn care regimen.
Harold Enger, Director of Training and Franchise Support at Spring-Green Lawn Care Corporation, introduces homeowners to the most common problem insects in the podcast episode Insect Control. Summer grass care requires insect control for a lush lawn, but Enger warns that treatment timing is dependent upon each lawn's specific pest problem.
Cultural practices also come into play for a lush summer lawn. Cultural practices influence grass care year round and like insect treatment, certain practices are dependent on grass variety.
"Each variety of grass, whether it's bluegrass, ryegrass, Bermuda grass or centipede, has different practices that satisfy the plant's needs and improve overall growth. Cultural practices are what homeowners do to help ensure the plant's successful growth and care," explains Enger in the podcast episode Cultural Practices.
During this latest installment of the Lawn Talk series, Enger discusses best practices for lawn care, including optimal grass length for a healthy plant and best times for watering.
Homeowners can discover these cultural practice tips and other important advice on grass care and tree maintenance by visiting Lawn Talk Podcasts to listen to complete episodes.
About Spring-Green
Founded in Naperville, Illinois, in January 1977, Spring-Green has been beautifying neighborhood lawns for over 31 years. Today, the Spring-Green organization provides lawn fertilization, weed control, tree and shrub care and other yard services to over 7,500 neighborhood communities around the country. Visit Spring-Green.com to find your Spring-Green neighborhood lawn care professional. Call today and receive a free lawn care service quote.
###