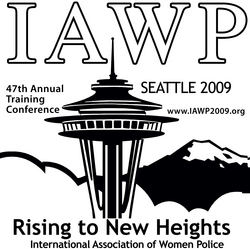 It's been more than 30 years since Seattle last hosted an IAWP training conference -we are very pleased to have the international spotlight on our city once again for this exciting and valuable week of peer and leadership meetings
Seattle, WA (PRWEB) March 17, 2009
Seattle, WA -- The International Association of Women Police (IAWP) will hold its 47th Annual Training Conference in Seattle, Washington, September 20--24, 2009. The conference will bring together hundreds of law enforcement officers from more than 45 countries to participate in training programs that promote leadership, professional development, diversity and networking opportunities.
"It's been more than 30 years since Seattle last hosted an IAWP training conference -we are very pleased to have the international spotlight on our city once again for this exciting and valuable week of peer and leadership meetings," said King County Master Police Officer Beth Lavin, IAWP 47th Annual Training Conference Director. "While the conference is an outstanding platform for female, and male, police officers to exchange ideas and support their peers, it also offers a unique opportunity for businesses to market to an interested and motivated target audience. Additionally, it is a terrific opportunity for recruiters to speak with a large population of potential hires."
The 47th Annual International Association of Women Police Training Conference takes place September 20 - 24, 2009 at The Westin Seattle.
Keynote Speaker:
Colonel Katherine N. Miller
Commander of the United States Army Corrections Command and the Deputy Provost Marshal General
Special Guest Speaker:
Ann Rule, famed true crime writer, author of 20 books
Pre-and-Post Conference Excursions
The IAWP conference committee is pleased to offer two opportunities for attendees and their guests to enjoy the beautiful Pacific Northwest. For the first time, the IAWP is offering a pre-conference adventure: a 7-day luxury cruise to Alaska. For information about this and the post-conferencer tour, see the IAWP Seattle Website at http://www.IAWP.us
Silent Auction Benefits Seattle Children's Hospital
The proceeds from a silent auction during the conference will benefit Seattle Children's Hospital.
About the International Association of Women Police
The International Association of Women Police (IAWP) was created in 1915. Its mission is to strengthen, unite and raise the profile of women in criminal justice around the world. The IAWP is committed to professional development, training, recognition, mentoring, networking and peer support. For information about the 47th Annual IAWP Training Conference in Seattle, visit: http://www.IAWP.us
###