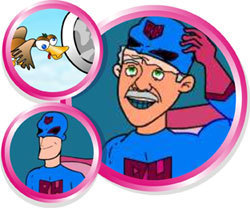 New York, NY (Vocus) March 17, 2009
OurNewAmericanHero.com, a new video running on a variety of Internet media websites, has become a hit. The animated video based on the Hudson Plane Crash has become a viral sensation, with the minute-long clip viewed and shared by thousands of people around the globe.
This animated video presents a new perspective of what happened during the airliner crash on the Hudson River. The creative approach makes it amusing for viewers all over the world, whether they´re familiar with the story or not.
The video was designed to commemorate the heroic actions of Captain Sully on January 15th, 2009. The pilot is portrait as a real super hero, who managed to control the damaged plane and safely land it on the river. In an unexpected response, people from all different ages and backgrounds have gravitated to the video with great enthusiasm.
Capitan Sully´s followers have become a huge fan base for the video, asking people to share it and vote this pilot as 2009 Man of The Year. The video portrays Sully´s heroic performance as an act that calls for national and global recognition.
Being an animated product, the video is different than all other videos related to the plane crash. With a creative approach, the video shows Captain "Sully" as a real hero who saved the lives of 155 people. Through animation, the video transforms this potentially catastrophic event into a celebration for everyone who watches it.
Included in the video is a customized version, where viewers can enter their names to appear as Captain Sully´s co-pilot. This allows anybody to be a part of the adventure in this unique video, and share it with friends and family.
This short animation has become a viral hit and it has already been posted on different social network profiles and sent in emails around the world.
To view the original video please visit: http://www.ournewamericanhero.com
###