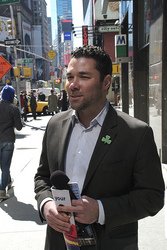 Twitter as a Tool for Social Media
New York, NY (PRWEB) March 17, 2009
New York, NY - March 17, 2009 - The conference agenda for Search Engine Strategies (SES) New York 2009 mirrors the latest industry trends and expanding definition of the search engine marketing industry. The must-attend search engine marketing conference features two keynote speakers, an Orion Panel on the State of Search, 65 conference sessions, six search engine marketing (SEM) training workshops, a one-day search engine optimization (SEO) training course in partnership with Bruce Clay, and a day-long web analytics training workshop in partnership with the Web Analytics Association (WAA).
Matt McGowan, Vice President and Publisher for Incisive Media's Interactive Marketing Group, which includes Search Engine Strategies, Search Engine Watch and ClickZ, said, "This isn't a cottage industry. According to the latest survey by the Search Engine Marketing Professional Organization (SEMPO), North American search marketing spending will increase 9% to $14.7 billion in 2009, up from $13.5 billion a year ago. And SEMPO forecasts the industry will reach $26.1 billion in 2013."
McGowan added, "One of the drivers of this growth, even in a recession, is SEMPO's expansion of the definition of search marketing to include new forms of advertising such as some sorts of social media. The conference agenda for our flagship industry event anticipated this change and is designed to educate attendees on the growing list of topics that they will need to master in the coming year."
The SES New York 2009 conference agenda includes:

Monday, March 23: Six SES Search Engine Marketing (SEM/SEO) training workshops. These workshops provide the practices, applications, and hands-on exposure you need to become (and remain!) a top performer in your field. This in-depth training in a small class setting ensures that your instructor is accessible for informal one-on-one or small group discussions.
Tuesday, March 24: Opening keynote on "Twitter as a Tool for Social Media" by Guy Kawasaki, Author of Reality Check. This will be followed by 25 conference sessions in five tracks, as well as by three Express Site Clinics in the Expo Hall. Highlights include the "Chitika Workshop: SearchAppalooza - Kick-Ass Apps Contest & Talking Search beyond Google".
Wednesday, March 25: Orion Panel: "The State of Search - A Maturing Marketplace or Poised for More Growth?" Before and after this will be 20 conference sessions in five trackes, as well as three more Express Site Clincs in the Expo Hall. Highlights include: "Google Workshop: Preview the new AdWords interface", "Facebook Workshop: Harnessing the Social Graph", "Google Workshop: Maximizing Your Website's ROI", and "Wpromote Workshop: 8 Things You Aren't Doing That Will Boost Your SEM Results".
Thursday, March 26: Morning keynote by John Gerzema, author of The Brand Bubble. This will be followed by 20 conferences sessions in five tracks.
Friday, March 27: A one-day SEO Training course offered by Bruce Clay, an industry recognized expert on SEO. At the same time, the Web Analytics Association is offering One-day Web Analytics WAA Base Camp Training Course.
For more information about SES New York 2009, go to rates and registration details. Register today and get access to these special offers: MarketMotive is offering one month of free online search marketing training, Keyword Discovery is offering a free standard subscription for 30 days, and Dun & Bradstreet's Online Business Network is offering a free subscription for 3 months.
About SES
Incisive Media's Search Engine Strategies is a leading global conference and training series focused on search engine optimization and search engine marketing. Other Incisive resources for interactive marketers include Search Engine Watch, which provides news and information about search, analysis of the search engine industry and tools for improving search marketing effectiveness, and ClickZ, which provides digital marketing news, information, commentary, advice, opinion and research.
Incisive Media is a leading global provider of specialized business news and information, in print, in person and online. The company's principal markets include financial services, legal services, commercial real estate, marketing services and risk management. Incisive Media's market-leading brands include Accountancy Age, Computing, Investment Week, Legal Week, LegalTech, Post, Real Estate Forum, Risk, Search Engine Strategies and The American Lawyer.
###