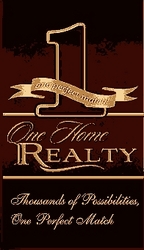 Saint Joseph, Missouri (PRWEB) March 31, 2009
One Home Realty, Ltd., a leading real estate company serving the St. Joseph, Missouri area, proudly announced the launch of its new website, Find One Home. Integrating the latest home search technology with top-tier client tools and customer service, the company is now pleased to offer a web experience that truly delivers upon the needs of today's home buyers and sellers.
Find One Home is a dependable and user-friendly portal to the St. Joseph Real Estate market. It also serves as a one-stop destination for information about the Saint Joseph lifestyle. Visitors to the site are provided with vivid descriptions and substantial information about local schools, shopping, entertainment, and churches. All of these helpful resources are contained in the "Concierge" section, which is easy for those considering relocating to the area to bookmark and reference.
Find One Home's St. Joseph MLS feature is tied into their "One Perfect Match" program, which automatically sends out email listings updates whenever a new property fitting the match criteria provided goes on the market. Home buyers can also easily view available active properties, ranging from remarkable historic homes to exquisite new homes. Additional technology-based services for home buyers offered by One Home Realty include a text-messaging system where detailed information on any home listed by the company can be received via SMS by simply texting from a cell phone to the address provided on the "For Sale" sign.
Home sellers will also find exciting resources on Find One Home. Details about One Home Realty's prevalent listings campaign on Realtor.Com, as well as their "One Home Makeover" program are easily accessed through the website. This is a section of Find One Home that anyone looking to sell their Saint Joseph home will find reassuring and useful to know to know about.
For more information about the residential and commercial real estate services provided by One Home Realty through Find One Home, please visit http://www.findonehome.com or call 816-232-4111.
About One Home Realty, Ltd.:
Founded in 2004 by Realtors Ed and Ashley Stroud, One Home Realty is a real estate company providing comprehensive services to those buying and selling homes in the St. Joseph, Missouri area. They are committed to provide a high level of insight, experience, and customer service to ensure highly successful home purchases and sales. One Home Realty's team of St. Joseph Realtors also serve the nearby communities of Savannah, Gower, Agency, and Summerhill.
###