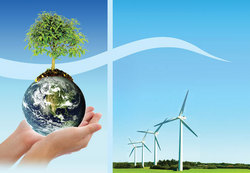 is the first in the nation offering professional certificates in the green industry
San Diego, CA (PRWEB) March 18, 2009
San Diego State University's College of Extended Studies "is the first in the nation offering professional certificates in the green industry," according to Zacharie Mondel, CEO of the Globally Green Energy Consortium (ggec.org). By offering two new professional certificates in key areas of green industry growth -- Green Building Construction, and Renewable Energy and Green Energy Management -- SDSU's College of Extended Studies is leading the way in developing comprehensive and practical training for the green jobs of the future.
The green industry is poised for major growth. In its Green Outlook 2009 report, McGraw-Hill Construction predicts the green building market will double from today's $36-49 billion level to $96-140 billion, representing 20-25% of new commercial and institutional construction starts by 2013.
In addition, hundreds of governmental initiatives are targeting and funding growth in this area. President Obama has committed to doubling U.S. renewable energy by 2012, and plans to invest $150 billion over 10 years toward the nation's clean energy economy. He expects these initiatives to create five million new green jobs, and has made it a priority to "ensure that American workers have the skills and tools they need to pioneer the first wave of green technologies that will be in high demand throughout the world."
"We expect President Obama's focus on the green industry to generate new opportunities and drive real job growth in the coming years," says Joe Shapiro, dean of SDSU's College of Extended Studies. "We see this as a mandate to provide the training and certificate programs that people entering this high-growth field are going to need to succeed."
The two new certificate offered by SDSU's College of Extended Studies are designed to teach the practical knowledge and skills that employers in green industries will need and value. All certificate courses are being offered online because this training is relevant to green jobs worldwide. International enrollments in these programs are increasing as countries around the world focus on driving their own green industries forward.
Students can earn each certificate within a short time frame by completing a series of five online courses. Courses may also be taken individually. Students can earn the Professional Certificate in Green Building Construction by completing Fundamentals of Green Building Design and Construction, Construction Materials and Processes, Building Information Modeling (BIM) with an Emphasis on Green Construction, Building Green Buildings - The Contractor's Perspective, and LEED for New Construction - Applying the Guidelines. Courses leading to the Professional Certificate in Renewable Energy and Green Energy Management include Introduction to Green Thermal Systems, Energy Conversion and Management, HVAC for Green Buildings, Solar Energy Conversion, and Renewable Energy Sources.
"We're committed to remaining the pace setters in providing training that effectively meets green industry needs," says Shapiro. "SDSU has formed a CES Sustainability Advisory Board that brings together 25 committed and energetic green industry leaders. Their expertise and feedback guides our course and program offerings. That's why we're the first program nationwide offering professional certificates in the green industry."
SDSU's College of Extended Studies reaches out to the greater San Diego community, the nation, and the world with a wide variety of lifelong learning classes, seminars, certificate and degree programs, and other learning opportunities. Career advancement courses are offered in many areas of management, leadership, and quality improvement while self-enrichment courses range from astronomy to web design. Additionally, the College offers more than 35 certificate programs, online courses, and workforce development courses, many of which are approved for tuition remission for eligible participants through the Workforce Investment Act.
Additional information about these new professional certificate programs can be found online at neverstoplearning.net/greencareers.
###