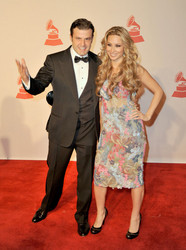 Macarena is back on the Billboard charts crossing over Latin radio formats featuring T Lopez the first Latina on Cash Money Records and we're very happy with the results.
Hollywood, CA (PRWEB) March 17, 2009
2008 was the year that America saw Los del Rio (LDR) back on television to celebrate the Quinceañera of "Macarena" and promote their new album. In Latin America, the Quinceañera, much like the American "Sweet Sixteen," marks the celebration of a young girl's fifteenth year and is commemorated in a unique way from her other birthdays. This year in the U.S. alone, it is estimated that over 400,000 Latinas will have parties marking this festive occasion. With the release of Quinceanera Macarena, Los Del Rio's debut album for IMC (International Music Content Records), Antonio Romero and Rafael Ruiz are hoping the fun will include dancing the "Macarena" all over again. If you haven't heard by now, Macarena, is the biggest selling Latin Single in Music History ever and only second to Elton John's "Candle in the Wind."
Darius Jordi Lassus president and CEO of IMC Records, Inc. states "this past year, Los del Rio where back in the studio in cities like Miami, New York and Los Angeles, to record Quinceañera Macarena, they shot 3 music videos to support the album and attended the Latin Billboard Music Awards, The Alma Awards and the Latin Grammy's" he continues "Macarena is back on the Billboard charts crossing over Latin radio formats featuring T Lopez the first Latina on Cash Money Records and we're very happy with the results."
T Lopez is the first Latina on Cash Money Records, a testament that Urban labels are expanding and crossing over into new radio formats like the Latin Rhythm charts, as demonstrated last year by Melissa Jimenez, the first Latina on SRC/Universal Records (Akon) who was featured on the Kumbia Allstarz hit single "Rica y Apretadita." This year T Lopez, the first Latina signed to Cash Money Records, a label made famous by artists Lil' Wayne, Birdman and newcomer Kevin Rudolph with his hit single "Let it Rock" is taking over Spanish radio stations across the country featured on the remake of an international hit single that made music history and bringing it back to the Billboard charts.
The two principals of Los Angeles based IMC Records are very enthusiastic about the ongoing appreciation and acceptance of Quinceranera Macarena, as well as its vast potential to make Los Del Rio a media sensation all over again. "We are very happy with the results and how well accepted the song has been on stations like New York's La Mega FM and La Kalle FM" says Domingo Zapata, chairman of IMC Records and co-writer of the new Macarena and songs like Roberto y Natalia" he continues "the music video is taking off virally and we're getting bombarded with requests for TLo and LDR in countries like France, Russia, Australia, I mean we're very fortunate, the entire globe wants to tell our story, the song turns 15 and is back on the Billboard charts, currently in the Top 20s of the Latin Tropical chart."
But Los del Rio are not stopping there, they're currently in the studio recording "Mi Lola" a tribute song for "La Faraona" Lola Flores penned by Domingo Zapata and produced by Jon Secada with Internationally renowned Soprano Montserrat Caballe for "Mi Gitana" their next album soon to be released in Spain. Domingo Zapata states "We are honored to have guest appearances by our beloved Diva Montserrat Caballe, Spaniard crooner Dyango and other surpirses which I can't disclose just yet" he continues "its been over 40 years of a musical career for LDR and I feel this album is the beginning of a new direction for them, I'm very happy to be a part of it."
###