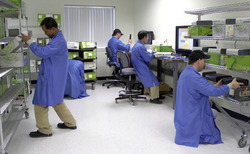 The Xbox360 is a growing part of the business
Wilmington, Mass. (PRWEB) March 17, 2009
Blue Raven Technology, Inc., a leading provider of parts and electronic repair services for technology products, today announced the expansion of its Game Console repair center, including its Xbox 360 repairs of the dreaded Red-Ring-of-Death (RRoD).
Blue Raven has developed a proprietary process for the repair of out-of-warranty Xbox 360 consoles with demonstrated results. With over 10,000 repairs returned to the field, Blue Raven has honed and validated their proprietary repair process for the RRoD as well as other common failures.
"The Xbox360 is a growing part of the business," said Glen A. Kashgegian, president, Blue Raven Technology. "Investing in the resources to develop a reliable solution to the Red-Ring-of-Death has differentiated us from others in the marketplace. Finding solutions to complex problems and delivering on them with speed and quality has been the cornerstone of Blue Raven for 23 years."
Blue Raven's expertise and experience is not limited to Xbox360 repairs, but spans the market of game console repair services for the Playstation 2, Playstation 3, and the Wii.
Blue Raven's state-of-the-art facility supports full BGA capability including X-Ray and endoscopic verification and an LCD repair operation, supporting screen sizes up to 60", housed in a class 10,000 clean room.
About Blue Raven
Blue Raven Technology, Inc., is a leading provider of in and out-of-warranty service parts, depot repair services, and returns management for computers, iPod MP3 players, gaming consoles and flat panel televisions on an exclusive and non exclusive basis to the worlds largest electronic retail chains, schools, OEMs, and warranty companies. Blue Raven has more than 23 years experience in servicing electronics products down to the component level; including BGA and SMT repair of motherboards and LCD panel repairs to 60". For more information on Blue Raven, please visit http://www.blueraven.com
Blue Raven and Blue Raven Technologies are trademarks of Blue Raven Technologies, Inc. All other products and services mentioned are products of their respective companies.
###