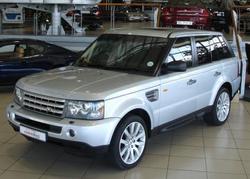 The response thus far has been significant; we're helping more and more people feel a peace of mind when traveling in this region
Ogden, Utah (PRWEB) March 17, 2009
International Armoring Corporation (IAC), announced today that they have launched the first lightweight partially armored vehicle packages ("bulletproof") for use along the violent US/Mexican Border. These entry level packages provide protection from high powered hand guns to high powered rifles. Package pricing starts at US$3,450.
IAC's CEO Mark Burton commented that these lightweight armored vehicle packages are designed to provide maximum protection coverage for a minimum price. "Our hope is that at this price point, many more people will be able to afford the much needed protection as they travel in the U.S./Mexico border region."
Recently Mexico has been experiencing high rates of violence along their northern border. This high incidence of crime in Mexico has also poured across the border and influenced crime in the United States. "Our goal is personal protection for innocent civilians" Says Tom Fleenor - IAC's Director of Sales and Marketing. "The response thus far has been significant; we're helping more and more people feel a peace of mind when traveling in this region"
IAC has designed these light armored vehicle packages to be affordable to individuals that travel in this region on a regular basis. These armored vehicle packages are specifically for individuals that feel a perceived threat to themselves, families or employees due to this increased border violence.
With the recent surge in demand, IAC has contracted a facility for installation of these packages in Southern California and is in the process looking for facilities in Arizona and Texas.
About International Armoring Corporation (IAC)
IAC has manufacturing and service facilities in 14 different countries. Over 5,500 armored vehicles have been modified and shipped to over 50 different countries. IAC has built vehicles for 36 different foreign presidents and heads of state. Governments, subcontractors, militaries, international corporations, religious leaders, vehicle manufacturers, and other individuals use IAC vehicles.
IAC was the first company to implement the use of high tech fibers ("ARMORMAX®") in the armoring of passenger vehicles over 15 years ago. IAC has continued to enhance and improve the materials and installation techniques for greater protection with less weight added. The armored vehicles currently being produced by IAC are able to defeat up to high power rifle fire as well as Improvised Explosive Devices (IED).
For more information call Tom Fleenor at (801) 393-1075 or visit http://www.iacamormax.com.
###