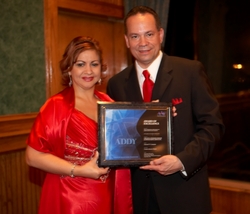 We appreciate the opportunity to put in practice our talent and creativity on behalf of our partners and clients
Los Angeles, CA (PRWEB) March 19, 2009
Power Media Group, Inc. (PMG) was recently selected by the Advertising Professionals of North Los Angeles County - an affiliate of the American Advertising Federation (AFF) - as a recipient of the 2009 "ADDY" Award for a National TV Campaign - Spanish Language commercial with a strategic TV campaign. The award, presented by The Advertising Professionals Association of Los Angeles, was presented to PMG for excellence in creativity and execution at the ADDY Award gala dinner on March 15 at the Odyssey Restaurant in Granada Hills, CA.
This prestigious award recognizes PMG's outstanding work and excellence in video production created on behalf of Primor's 2008 Direct Response Campaign as well as the inclusion of talented Hispanic actress and singer Laura Flores. The TV spot far surpassed client expectations, allowing Creativa Interiors-Primor to expand its operations from coast to coast despite an international economic recession. In November 2008, the company opened a mega warehouse over 30,000 sq. ft. in Commerce, CA and two additional points of sales stores in downtown LA and Huntington Park.
Patricia Gracia, president of Power Media Group in Santa Clarita, CA, says that the recognition by the Advertising Professionals Association is accepted with genuine gratitude and pride.
"We appreciate the opportunity to put in practice our talent and creativity on behalf of our partners and clients," she said after receiving news about the award earlier this week.
The ADDY Award's primary mission is to recognize and reward creative excellence in the art of advertising, graphic design, web design, and in the elements of advertising, illustration, and photography. The ADDY® Awards are the creative industry's largest and most representative competition, attracting more than 60,000 entries every year in local ADDY competitions.
About Power Media Group Inc.:
As outlined in Daily News, PMG is an advertising agency that specializes in creating Spanish language campaigns for high-profile clients seeking to reach the booming Hispanic market. Honored as the winner of the Latin Business Association Sol Awards 2008, PMG was recognized and appreciated for its exemplary commitment to the Latino business community through leadership and service.
The Los Angeles County board of supervisors as well as U.S. Congressman Buck McKeon have commended PMG for its work. In early 2008, PMG qualified under very strict SBA guidelines for a Small Business Administration (SBA) real estate loan, which resulted in the purchase of the firm's 11,000 sq. ft. commercial building that serves as a new home for clients and customers.
In March 2009, La Opinion Newspaper will honor PMG president Patricia Gracia as the "Distinguished Woman of 2009 in the category of Business and Technology" for her service to the Hispanic business community. The award recognized Gracias and her continued efforts toward long-term business growth and her advertising agency's technological advances as well as her steadfast commitment to serving the Hispanic business community nationwide.
PMG clientele included: Universal Music Latin and Video Distribution, Vivendi Visual entertainment, Creativa Interior-Primor, NYX Cosmetics, Xenon Pictures, Community and Mission Hospital of Huntington Park, AB Underwear, Costamar Travel International, New Concepts, Ziglo 21, Hairlocs, the Herrera Sindell Group, Inc., Success Masters by Design, among other.
About Advertising Professionals of North Los Angeles County (ADPROS):
The ADDY® Awards is the world's largest and arguably toughest advertising competition. The ADDY® Awards represent the true spirit of creative excellence by recognizing all forms of advertising from media of all types and sizes and from all over the globe. Not-for-profit association The American Advertising Federation conducts the ADDY® Awards through its 200 member advertising clubs in 15 districts. It is the only creative awards program administered by the advertising industry for the industry.
# # #