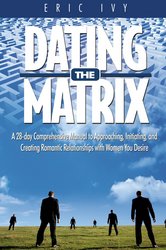 The best book on the market to help men engage and start talking to women immediately.
Los Angeles, CA (PRWEB) March 17, 2009
Don't be shy… enter The Dating Matrix, the new book and dating program to the rescue of all men shy. According to author, Eric Ivy, a successful dating consultant whose unique approach continues to be internationally sought, "The principal of attraction and how to create it, particularly for shy men, doesn't have to remain in a gray zone. My techniques show men how to master dating with ease and confidence," says author Eric Ivy. The Dating Matrix, like a fine tonic, takes course over time - 28-days to be exact for those who have chosen this higher road to dating.
Ivy has not only helped men achieve dating success as spelled out in his book, but has turned The Dating Matrix into possibly man's new best friend. He teaches men the skills necessary for approaching, initiating and creating romantic relationships with women they desire. This 'don't try dating her without it' survival guide shows men they don't have to go it alone.
Practical and proven, The Dating Matrix provides a 28-day, step-by-step blueprint in a clear, concise, and easy-to-follow actionable format… truly a matrix. It covers every stage of the process from relationship goals, ideal mate profiles, the initial approach, opening conversations, creating dialogue, creating rapport, expressing romantic interest, getting her number, asking her out, how to execute the first/second date, the first kiss, intimacy, and creating/managing a romantic relationship. New science or artform? Ivy has perhaps created both in the name of men achieving dating success.
The Miami, Florida, based author explains the genesis of his program: "I grew up painfully shy and introverted, lacking social confidence. I didn't know how to approach women or even talk to them without being overcome with anxiety. To help me change my dating reality, I read extensively on the subject, consulted experts, attended seminars, tried what I had learned and then refined what worked, until it became my 28-day program."
For men engaging in his program, Ivy says, "You could be dating her with a successful outcome." From demonstrating the proper steps to physically escalate a man's romantic interest, to 'sourcing women' who are their profile match, The Dating Matrix offers a winning technique for all men looking to shed their shy lining.
Ivy has successfully mentored hundreds of men for more than eight years, and as he has continuously proven, romantically impaired men can become a thing of the past. He points out, "Men trying to maintain relationships with women they desire is no longer a far stretch."
Of his personal dating journey, Ivy further explains, "I had to completely recreate who I was, undoing years of self-defeating behaviors, overcoming low self-esteem, constantly acquiring new knowledge, practicing, evaluating and repeating this cycle over and over to become the person I am today. If you have a sincere desire to better yourself and create real, positive change, this program will work for you."
A satisfied Redondo Beach, California, insurance salesman calls The Dating Matrix, "The best book on the market to help men engage and start talking to women immediately." A Los Angeles CPA declares, "Not only does Eric provide a practical blueprint from A to Z of how to approach, meet and talk to women, but he forces you to be successful at it by demanding you complete an accountability journal to track your results. You can't fail!"
And in Flint, Michigan, an intern at a civil engineering firm reports, "I went from being shy, introverted and unsure of myself around women to becoming a confident initiator with them - in 28 days. If you follow the steps in this book, you will too."
What are you waiting for? Hasn't your ideal-mate profile waited long enough?
Next to the book, The Dating Matrix companion online 28-day program is also available at http://thedatingmatrix.com.
Don't miss Ivy's thoughts and advice in a special feature article on dating in the current issue of Men's Health magazine: http://www.menshealth.com/cda/article.do?site=MensHealth&channel=sex.relationships&category=couples&conitem=41c753a212f1f110VgnVCM10000013281eac
"If you need this level of help, this is the best book you will find."
-- SACRAMENTO BOOK REVIEW
Available for purchase at bookstores, Amazon.com, barnesandnoble.com and at: http://thedatingmatrix.com.
The Dating Matrix
Trade Paperback
$24.95
206 Pages
Evercore Publishing
ISBN-978-09799-038-0-9
###