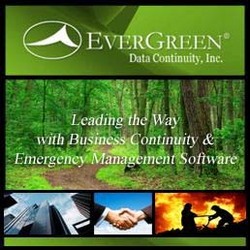 Its companies like these who are leading the industry by integrating their business continuity program with their IT and business processes to reduce operational costs while improving their State of Readiness
Newbury, MA (PRWEB) March 19, 2009
EverGreen Data Continuity, Inc has announced the release of its Mitigator 8 business continuity management software. Mitigator 8 is critical to the survival of organizations that depend upon continuous operations by providing the necessary software tools to prevent, mitigate, plan, notify, respond and recover from any unforeseen event.
In today's environment with evolving organizational matrices and complex technical infrastructures, traditional business continuity planning templates and software are no longer adequate to ensure timely response to unexpected events. Most business continuity and DR planning functions are not well integrated into the organizations they serve and the accuracy of critical data is often outdated at the time of the crisis.
Mitigator 8 is an affordable business continuity management software solution that is easy to use and scales with full functionality from the smallest organization to the largest enterprise environment. Integrated features include business and operational risk analysis, mitigation strategies, recovery planning, test management, emergency notification, documentation management, and security protection. Existing business continuity and DR plans can be upgraded and aligned with current data to maintain and improve each organizations "State of Readiness".
"The benefits of using EverGreen's Mitigator product are immeasurable to our organization. Creation/maintenance of BCPs across our enterprise would be a daunting task if done manually without the use of Mitigator's expert system. An ROI analysis has shown a substantial cost savings by utilizing Mitigator to facilitate the creation and maintenance of our BCPs. Mitigator's ease of use, cost competitiveness and versatility are un-matched in comparison to other solutions." Global Healthcare - Manager Business Continuity Solutions
"Its companies like these who are leading the industry by integrating their business continuity program with their IT and business processes to reduce operational costs while improving their State of Readiness" said Bob Burns CEO EverGreen Data Continuity, Inc.
For additional information on how EverGreen can improve your "State of Readiness" please visit http://www.evergreen-data.com or contact us at 888.489.6660.
EverGreen Data Continuity, Inc has been providing worldwide business continuity solutions for more than ten years to financial, medical, government and other institutions. EverGreen is a Microsoft Certified Partner as well as he winner of FEMA's Region 1 Outstand Partner Award.
# # #