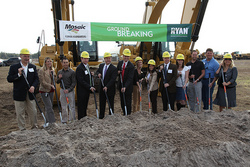 Frankly, this is a perfect example of sustainable development and how things should be done.
Tampa, FL (PRWEB) March 20, 2009
Construction begins today on a new company headquarters for Mosaic at Newland Communities' new Florida real estate development, Circa FishHawk.
By spring 2010, Mosaic will house its Florida administrative, sales and engineering operation within the new green building and will bring more than 400 employees together to the FishHawk area. All of the Mosaic employees currently work from four different offices in Hillsborough and Polk counties.
"We are thrilled to welcome Mosaic and its employees to Circa FishHawk," said Rick Harcrow, senior VP of operations for Newland Communities. "With the addition of Mosaic, Circa FishHawk and the entire FishHawk Ranch Community will move even further down the continuum of a true hometown where families can live, work and play."
The Mosaic headquarters will be the first construction in the planned residential community of Circa FishHawk and will anchor the new community's Village Center. Circa FishHawk is an expansion of the successful FishHawk Ranch new home community. Circa FishHawk is planned for 1,800 homes to be constructed by established Florida home builders, continuing the FishHawk Ranch legacy. Circa FishHawk has been planned to allow the FishHawk area to grow in a liveable, sustainable manner with a transit orientation, walkable and bikeable land uses, public open spaces and a range of retail, business and housing choices.
Phase I of Circa FishHawk includes the Village Center that Mosaic Corporation is anchoring. Also planned for the Village Center area are retail shops and services, new homes, townhouses, duplexes, rental apartments, and multi-family homes of varying sizes and styles.
Attended by several local community and business leaders, the groundbreaking ceremony for the four-story, $20 million, 110,000-square-foot building took place on Thursday, March 12. The project developer and design/builder, Ryan Companies, is pursuing LEED certification by the U.S. Green Building Council, which will result in a more sustainable project.
"Frankly, this is a perfect example of sustainable development and how things should be done." said Ken Hagan, chair of the Hillsborough County Board of County Commissioners. "It is great to see that sustainability makes both dollars and sense."
About FishHawk Ranch
The residential community of FishHawk Ranch is located about 20 miles east of Tampa, Fla. Developed by Newland Communities, FishHawk Ranch has approximately 3,700 houses with some 10,000 residents. Encompassing more than 3,000 acres, FishHawk Ranch features four on-site schools, recreation complexes, parks, more than 25 miles of walking trails and a commercial town center. Many of the new homes for sale within FishHawk are built by some of Florida's best home builders. For more information, visit http://www.fishhawkranch.com
About Newland Communities
Newland Communities is the largest private developer of planned communities in the United States. In the Tampa Bay area, Newland is actively developing FishHawk Ranch, Circa FishHawk, MiraBay and the future community of Waterset. Headquartered in San Diego, Newland Communities is currently developing and managing about 40 projects in 14 states. For more information, visit http://www.newlandcommunities.com.
###