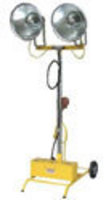 We continue to add flood light options for customer operating in hazardous location areas and general work areas in military, petrochemical and industrial areas
Houston, TX (PRWEB) March 18, 2009
Larson Electronics' Magnalight.com announced several new flood lights for both 12/24 volt DC and 120 volts AC. The explosion proof, Class 1 Division 1 400 watt metal halide EPL-18C-1X4 is an 18 inch diameter flood light on wheels, designed to be used for cleaning tanks in hazardous location areas. The EPL-TP-1X70-100 features a 70 watt metal halide fixture that is rated both for Class 1 Division 1 environments and for wet, saltwater areas. In the portable light tower category, Magnalight.com added the WAL-C-2XM, a double headed 1000 watt metal halide on a cart with wheels, which produces 220,000 lumens for work site lighting. The new WAL-M-500-120 is a magnetically mounted 500 watt flood light is designed to be attached to any steel surface for general work area lighting. Generally, flood lights produce a soft, wide area of illumination for work site lighting, as opposed to spotlights which are a focused beam designed to illuminate targets at a distance.
"We continue to add flood light options for customer operating in hazardous location areas and general work areas in military, petrochemical and industrial areas," said Rob Bresnahan. "As customers come to us with their needs, we continue to develop innovative lighting solutions to meet their needs. For example, our WAL-PM-500-120, which is a pedestal mount work area flood light, helped one customer provide high powered flood lighting in environments where there was no metallic surface to use our magnetic mount flood lights. This has proved useful to other customers as well. We also introduced a 12 volt, 150 watt version WAL-M-150-1224 for other customers who wanted the same magnetic mount flood light powered from their vehicle at the job site."
Rob continued, "For operators in hazardous location areas, we added an 18 inch diameter, 400 watt metal halide flood light which can inserted into any size man hole in tanks and vessels. As an alternative to explosion proof string lights, a single 400 watt metal halide, Class 1 Division 1 flood light can illuminate even the largest tanks from a single light source. It is smaller than our 24 inch model, making it universal to all tanks, regardless of age. Also, we now offer a 70 watt metal halide flood light in both pedestal mount (EPL-BS-70-100) and tripod mount (EPL-TP-1X70-100). A 70 watt metal halide flood light produces more light than a 300 watt halogen light. The metal halide light is also more true color than incandescent lights, drawing less current and producing less heat. When a lot people are comparing alternatives, such as our incandescent 300 watt fixture (EPL-PM-1X300-100) to the EPL-70-BS-100, they will find that the 70 watt metal halide outperforms the 300 watt incandescent in both light output and color."
Larson Electronics' Magnalight brand of explosion proof lighting is used in military, petrochemical and industrial settings around the world. You can learn more at magnalight.com or by calling 1-800-369-6671.
###