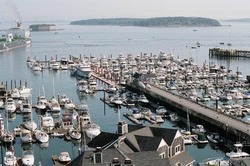 We figured the boat club concept would be well received and appeal to a more local crowd
South Portland, ME (PRWEB) March 18, 2009
With many would-be boaters minding their budgets, Port Harbor Marine saw this season as an ideal time to launch their new Boat Club in Maine, a timely alternative to boat ownership that maximizes the benefits of the Maine boating experience while eliminating many of the responsibilities of boat ownership.
Port Harbor's President, Rob Soucy, said the concept grew out of the company's successful boat rental program at all five of their locations. "We figured the boat club concept would be well received and appeal to a more local crowd," said Soucy. "The membership allows people who've been thinking about owning a boat, but who aren't quite ready to make the full commitment, an opportunity to get into the sport at a fraction of the cost."
Soucy also sees the Boat Club as an ideal way to expose a new customer base to the rewards of Maine boating, partly as a means to increase traffic to their dealership in the long haul. Though the Boat Club concept is not a new one, Port Harbor Marine will be the first Maine marina to offer this type of service in both fresh water, at their Sebago Lake facility in Raymond and salt water at their Spring Point Marina facility in South Portland. "As Maine's largest boat dealer," he added, "we have the ability to provide a wide variety of boats--and the ability to use them on either lake or ocean."
Memberships fall under two categories. First is a Family Membership, which, for an annual rate of $3,495, allows family groups and one designated captain access to boats from May 1 to October 1. Second is a Business Membership, which grants access to three designated captains, one of whom must be on board for every outing, throughout the May-to-October season. A seasonal business membership costs $4,995. Reservations can be made on a first come, first served basis, either online, 24 hours a day, at Port Harbor Marine in Maine, over the phone, or in person at either of Port Harbor Marine's locations.
For further details, visit the PHM website Port Harbor Marine boat dealer, or call 866-789-2656.
# # #