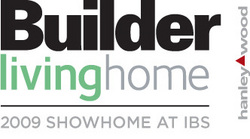 As far as most traditional builders are concerned, the great promise of modular homes is that they can be assembled so quickly. That advantage is magnified in today's economic environment, which finds every builder struggling to generate cash to pay construction interest. Putting a home together in five days instead of 60 or 90 can save a lot of money.
Washington, DC (PRWEB) March 19, 2009
BUILDER, the number one information source for the home building industry, announces newly added features to http://www.BuilderLivingHome.com, the Web site for its latest show home.
The BUILDER LivingHome was the 11th show home produced by the magazine each year at the International Builders' Show. The show home Web site, hosted on BUILDER'S Web site (builderonline.com), provides a comprehensive source of information about this one-of-a-kind sustainable, modular home. Included is a full model of the home, time-lapse video of the build, slide shows of the construction and move-in of the home, profiles of the project team, photos and press information. The site also contains several blogs covering the home's off-site fabrication and articles about the project from BUILDER magazine. A webinar about the home's concept and features is now posted as well as an episode of BuilderTV about the home's fabrication and the finished product, among other topics.
The site also hosts a 360-degree panoramic tour of the finished home from the floor of the convention center, including links to the project sponsors Web sites. Full coverage of the Builder LivingHome will also appear in the April 2009 issue of BUILDER magazine and online at builderonline.com and builderlivinghome.com
"As far as most traditional builders are concerned, the great promise of modular homes is that they can be assembled so quickly. That advantage is magnified in today's economic environment, which finds every builder struggling to generate cash to pay construction interest. Putting a home together in five days instead of 60 or 90 can save a lot of money." says BUILDER editorial director Boyce Thompson.
The BUILDER LivingHome was built on the exhibit floor at the 2009 International Builders' Show (IBS) in Las Vegas (January 20-23) and toured by more than 600 builders at the show.
2009 BUILDER LivingHome sponsors included:
Andersen Windows & Doors
Whirlpool Corporation
Kohler
Kraftmaid
DuPont
Klip BioTechnologies
Propane Education & Research Council
Tyco Fire Suppression & Building Products
Beam Central Vacuums by Electrolux
Broan-NuTone
Crossville, Inc.
Eaton Corporation
Energy Saving Products, Ltd.
Ford Motor Company
Generac Power Systems
Goodman Manufacturing Company
iLevel by Weyerhaeuser
Lyptus by Weyerhaeuser
Owens Corning
Rinnai Corporation
The Sherwin-Williams Company
Therma-Tru Doors
Typar Weather Protection System
Uponor, Inc.
About Hanley Wood
Hanley Wood, LLC, is the premier media and information company serving housing and construction. Through four operating divisions, the company produces award-winning magazines and Web sites, marquee trade shows and events, rich data and custom marketing solutions. The company also is North America's leading publisher of home plans. Hanley Wood Business Media (Washington, D.C.), publishes 30 award-winning residential and commercial construction titles, including BUILDER, REMODELING, CUSTOM HOME, CONCRETE CONSTRUCTION and residential architect. Hanley Wood Business Media also offers the construction industry's foremost collection of Web sites, including BUILDER ONLINE, REMODELING ONLINE, and ebuild, the comprehensive online guide to building products, as well as the largest collection of house plans online through eplans.com and Dream Home Source.
Founded in 1976, Hanley Wood is one of the ten largest B-to-B media companies in the United States. Hanley Wood is owned by affiliates of JPMorgan Partners, which uses CCMP Capital Advisors to manage this investment.
About LivingHomes®
Founded by CEO Steve Glenn, LivingHomes (http://www.livinghomes.net) is a premier developer of modern, prefab homes that combine world-class architecture with an unparalleled commitment to healthy and sustainable construction. LivingHomes are made in specially equipped factories that ensure unsurpassed quality, lower construction costs and waste and a shorter construction schedule. LivingHomes offers two lines of single and multi-family designs, one created by Ray Kappe, FAIA, the founder of the Southern California Institute of Architecture, and the other by KieranTimberlake (see below). The first LivingHome, designed by Ray Kappe, was the first in the nation to achieve LEED Platinum and was the only home to win the AIA's top sustainability award in 2007. LivingHomes are available in standard or customized configurations to builders, developers and individuals who want a more cost- and time-effective way to integrate homes that feature high design and low environmental impact into their projects.
About Profile Structures, Inc.
Since January, 1965, Feser Construction Co., and subsequently Profile Structures, Inc, has become one of the leading manufacturers of modular, light commercial buildings. Located in Santa Fe Springs, California, this company has applied assembly line production techniques to the manufacture of permanent, fully equipped, code-approved structures for varied commercial use. Utilizing pre-engineered components, custom buildings are produced in a matter of weeks from the approval of plans to occupancy. By virtue of their modular construction, the buildings can be inexpensively relocated at a future date if needed.
About KieranTimberlake
For over two decades, KieranTimberlake has designed beautifully crafted, thoughtfully made buildings which are holistically integrated to site, program and people. Established in Philadelphia in 1984, the firm has produced a diverse body of work for educational, cultural, civic, residential and corporate clients who have been drawn to the firm's environmentally ethical approach and its history of innovation. The design community has recognized the firm for its fusion of design research with architecture, bestowing over ninety design citations, including the 2008 Architecture Firm Award from the American Institute of Architects, the highest honor given to an architectural practice based on its proven consistent ability to accept complex challenges and envision design of elegant distinction.
About Color Design Art
Founded in 1970, Color Design Art (http://www.colordesignart.com) is one of the country's premier merchandising firms for the builder/developer community, having introduced the builder/designer team concept to the industry and completed nearly 4000 projects nationwide. Under the leadership of president Don Anderson, the company enjoys the reputation of being a leader in both lifestyle design and in-depth consumer research. A recipient of over 350 industry awards, Color Design Art remains committed to staying in touch with the latest consumer, marketing and design trends, and to translating those trends into the highest level of quality and efficiency in both product and service.
###