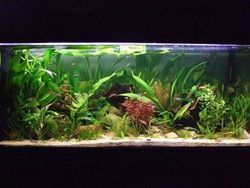 I've been doing this for ten years and I've never seen anything like it
Tea, SD (PRWEB) March 18, 2009
Recession? What recession? There are no signs of it at AquariumPlants.com, a small business in the tiny town of Tea, SD. The aquarium plant business experienced a sales gain of 60% in February compared to a year ago. The company is apparently benefiting from the economic stress felt by consumers as more people turn to hobbies instead of more expensive entertainment. They added one employee in February and are recruiting two more as March sales continue to surge.
"I've been doing this for ten years and I've never seen anything like it", said owner Mark Hamran of the unexpected surge in sales. "I guess that consumers are turning to soothing and relaxing hobbies like aquariums to relieve stress from the recession", Hamran said.
Hamran stated, "We are seeing a boost in new buyers just getting into the hobby, as well as returning customers expanding their aquascape". "Friday and Saturday night orders have increased substantially, I guess it's an indication that people are staying home more", Hamran said.
The five current employees have been scrambling to fill orders and answer customer inquiries. Hamran is searching for another aquarium expert and another customer service employee to handle the work load. He plans to further expand his business by offering more aquarium products and accessories like aquarium lighting systems. Hamran also designs aquascapes (landscape drawing with plant layouts) for new aquarists and it has been challenging to keep up with the increasing demand.
About AquariumPlants.com:
AquariumPlants.com is the leading online seller of freshwater aquarium plants and aquarium products to consumers in the US and Canada. The company's website, AquariumPlants.com ranks number one on Google, Yahoo and MSN for keywords "aquarium plants" and several other related keywords. The company was established in 1999 exclusively as an online seller of aquarium plants. The company also manufactures its own line of aquarium products including aquarium substrate (gravel), substrate fertilizer and a patented electronic CO2 regulator for CO2 injection into planted aquariums.
Contact:
Mark Hamran, President and Owner
605-368-2600
mh @ aquariumplants.com
http://www.AquariumPlants.com
###