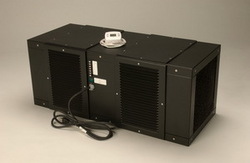 Many areas across the country have sustained temperatures below 40°F during winter months and adding this option will protect the compressor from temperatures that are too cold for its proper operation
Syracuse, NY (PRWEB) March 25, 2009
Wine Guardian® wine cellar cooling units are commercial grade climate control systems designed specifically for high-end residential wine cellars, institutional wine rooms, restaurants and commercial storage facilities. Wine Guardian now offers two factory-installed options specially designed for cold weather applications--low ambient protection and electric heat.
Low ambient protection is required when the air across the Wine Guardian condenser will be below 40°F. "Many areas across the country have sustained temperatures below 40°F during winter months and adding this option will protect the compressor from temperatures that are too cold for its proper operation," said Michael A. Militi, Wine Guardian division manager. "Otherwise these cold temperatures could cause the oil in the compressor to lose its viscosity and affect the proper lubrication of the compressor internals," he explained.
Two main components of the Wine Guardian low ambient protection option are a crankcase heater, which is located underneath the compressor to keep its oil warm, and a fan cycling switch. The switch turns the condenser fan on and off as needed to keep the refrigerant pressures within pre-set levels.
"The Wine Guardian heater option should be considered for when the temperature in the rooms surrounding the wine cellar could drop below 50°F for an extended period of time," Militi said. The Wine Guardian heater option warms the air entering the wine cellar in order to maintain a constant set point. Wine Guardian's ¼-ton and ½-ton units feature 1-kilowatt heaters and the 1-ton and 2-ton units include 2-kilowatt heaters; these warm the air an additional five to 12 degrees above ambient temperature, depending upon the Wine Guardian unit's size. The heater option includes an integral electric heating element, thermal overload protection device and controls. A thermostat is included as standard equipment.
Wine Guardian wine cellar cooling units can be ordered in four sizes to condition fine wine collections from 20,000 bottles to fewer than 500 bottles, and are designed to maintain optimal temperature and humidity so wine can be kept at the correct aging temperature. The units are self-contained and ductable, which makes them quiet and easy to install in many different types of locations, up to 25 feet away from the actual wine cellar. Wine Guardian products are made of commercial-grade components and corrosion-resistant, powder-coated aluminum for durability. They are ETL and CSA safety certified.
Wine Guardian products are distributed internationally, and representatives can help customers determine which size unit and what options are best suited for their wine cellar design and storage needs and the preservation and enjoyment of their valuable wine investments.
Wine Guardian is a registered trademark of Air Innovations®, which designs and manufactures Wine Guardian wine cooling systems at its headquarters in Syracuse, New York. Air Innovations, established in 1986, builds specialty air conditioning, refrigeration and environmental control products that also are used in the defense, aerospace, healthcare, semiconductor and retail industries.
For more information on Wine Guardian products, visit http://www.wineguardian.com, call toll-free 800-825-3268 in the U.S. and Canada (315-452-7400 other international) or write info@wineguardian.com
# # #