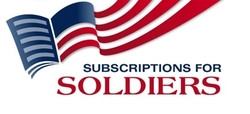 I want everyone to know there is an affordable, non-perishable high-demand gift that deployed service members want
(Vocus) March 18, 2009
For the last 15 years Jim Tully has built his career around working with all the branches of the U.S. Armed Forces. Before that Jim Tully grew up in a military family and spent six years on active duty in the U.S. Army.
It's easy to notice Jim Tully's matter-of-fact passion for serving the men and women who dedicate their careers and their lives to military service. And it's also easy to understand why he recently accepted his latest opportunity as managing director for Subscriptions for Soldiers, a magazine subscription donation program sponsored by Magazines.com.
Subscriptions for Soldiers makes donating magazine subscriptions affordable for individuals and companies. For just $10 per subscription donation, donors visit http://www.subs4soldiers.com and can donate to a service member they know or be paired anonymously with a service member through the database of requests. Meanwhile, service members go to a separate website at http://www.subs4servicemembers.com and request up to three favorite magazine subscriptions from 30 magazine titles like Guns & Ammo, Muscle & Fitness, Shape and Star at no cost to them. Presently Subscriptions for Soldiers has a database of more than 2,000--and growing-- service member magazine subscription requests.
Tully first joined the Subscriptions for Soldiers team in the summer of 2008 as a part-time consultant and has been integral in the program's multiple campaigns but as managing director has bigger plans for the fledging program.
"I want everyone to know there is an affordable, non-perishable high-demand gift that deployed service members want," Tully said. "It's hard for those of us who get mail every day to realize that our service members go weeks without getting anything and so a magazine subscription that comes once a month is huge."
About Subscriptions for Soldiers
Subscriptions for Soldiers provides citizens and corporate sponsors the opportunity to show support to troops deployed overseas by sponsoring magazine subscriptions. Service members sign up for free one-year subscriptions at http://www.subs4servicemembers.com.
Subscriptions for Soldiers then pairs that service member's request with a subscription sponsor. Individuals who want to sponsor a service member's subscription visit http://www.subs4soldiers.com and make a donation of $10 or more to give a free subscription to a service member overseas. Subscriptions for Soldiers connects service members, those they serve and the life we all cherish. For more information on Subscriptions for Soldiers, visit http://www.subs4soldiers.com or call (800) 673-1289.
About Magazines.com
Magazines.com is the oldest, the largest and the most dependable magazine subscription service on the Internet. We are a privately-held company based in Franklin, Tenn., a suburb of Nashville.
With more than 1,900 titles available, Magazines.com offers people a fun, easy way to discover new magazines and helps them track subscriptions. Magazines.com is the leading independent agent selling subscriptions, serving customers online at Magazines.com and by telephone at 800-MAGAZINES (800-624-2946.)
###