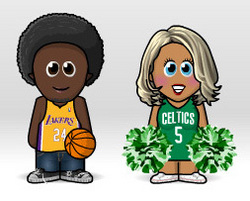 Basketball fans - and we know they're passionate and numerous - will now be able to show off their favorite teams and player jerseys year-round
Los Angeles, CA (PRWEB) March 18, 2009
Virtual Greats LLC, the world's leading virtual goods sales and distribution system, today announced a multiyear agreement with the National Basketball Association (NBA) to provide millions of fans access to NBA virtual merchandise in a variety of online communities, expanding the league's activation in market-leading social networks and virtual worlds.
A wide range of NBA-branded virtual merchandise, including player-identified jerseys (both home and away versions) are now available, and team-branded basketballs and room posters will soon be available to fans in social networks via RockYou, the leading innovator, creator and distributor of widgets and applications on the social web. RockYou deploys applications across major social networks, including Facebook, MySpace, and Friendster.
Additional NBA virtual merchandise including team jerseys, bouncing basketballs, pompoms and hoodies will be made available in WeeWorld, the most popular interactive avatar community and a trusted site for dynamic self-expression, creation and communication, and Planet Cazmo, a tween oriented, outer space and music themed virtual world, with a focus on virtual concerts and parties. Fans will have access to NBA-branded jerseys and foam fingers to outfit avatars and NBA furniture to decorate virtual rooms.
"Basketball fans - and we know they're passionate and numerous - will now be able to show off their favorite teams and player jerseys year-round," said Dan Jansen, CEO of Virtual Greats. "The upcoming NBA Playoffs provide a great opportunity to make fans aware of the goods - and they'll be easy to find and purchase given the sheer breadth of the online platform footprint."
"NBA-branded virtual merchandise affords our fans yet another platform to express loyalty to their favorite teams and players," said Victoria Picca, Senior Vice President, Licensing & Business Affairs, NBA Entertainment. "Virtual Greats will extend our reach to the rapidly growing number of NBA fans in the digital world."
In addition to the products being launched today, new and more involved NBA-inspired products and a broader suite of distribution platforms are continually being developed to accommodate the popularity and market appeal of both NBA merchandise and virtual goods.
About Virtual Greats LLC
Virtual Greats is the world's leading virtual goods sales and distribution system, connecting artists, intellectual property, and leading brands with a new generation of fans through the online trade of likenesses, fashion, catchphrases, and other virtual representations of real-world brands. Virtual Greats actively distributes its products globally through leading virtual worlds and social networks. Based in Los Angeles, Virtual Greats is affiliated with Millions of Us LLC, an agency specializing in virtual worlds and large online communities.
# # #