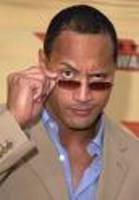 San Diego, CA (PRWEB) March 19, 2009
Solana Productions, Inc., was front and center as action star Dwayne Johnson stunned movie-goers by making a surprise appearance inside a theater on opening weekend of his new Disney film, "Race to Witch Mountain." Entertainment Tonight relied on this San Diego video production company to capture the event with XDHD cameras.
Shooting in HD, a Solana video crew captured all the excitement as the Johnson, formerly known as "The Rock," walked into the 7 p.m. showing of his movie at the AMC Mission Valley theaters on Friday, March 13. As shocked theater-goers screamed and applauded, Johnson thanked them for attending and announced that they would be receiving tickets to Disneyland.
The surprise was also something of a race for Solana Productions, Inc., a San Diego video production company based in Solana Beach, California. With only a few hours notice, the 2-person crew and field producer rushed to the multiplex and hid in a private holding area so as not to spoil the surprise for arriving movie-goers.
Solana Productions, Inc., specializes in ENG video production for a variety of broadcast, cable and corporate clients. The company's award-winning video crews shoot in all formats, including HD (high definition), Betacam and DV cam.
"Race to Witch Mountain," a remake of the 1975 Disney classic, "Escape from Witch Mountain" was the number-one film at the box office last weekend, earning an estimated $24 million.
The film features Johnson as a down-on-his-luck Las Vegas cab driver who sets off on an unforgettable adventure when he gives a ride to a pair of teen-agers with supernatural powers.
Moments before Johnson's surprise appearance, he and director Andy Fickman described their experiences making the film during an exclusive backstage interview with the Solana camera crew. Johnson also talked about his recent appearance on "Saturday Night Live," in which he impersonated President Barack Obama.
The interview and footage aired Monday, March 16, on "Entertainment Tonight."
More information about Solana Productions, Inc., is available at http://www.solanaproductions.com.
# # #