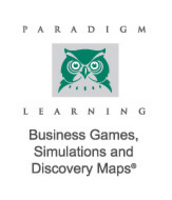 Tampa, FL (Vocus) March 18, 2009
Paradigm Learning, a leader in classroom-based business games, simulations and Discovery Maps®, has released the second in a series of three podcasts. The podcasts feature Touchstone Energy Cooperatives' use of discovery learning to educate its more than 40,000 employees located in 46 states on its services and business issues.
Touchstone Energy Cooperatives represents a nationwide alliance of more than 660 local, consumer-owned electric cooperatives in 46 states. Touchstone Energy co-ops collectively deliver power and energy solutions to more than 30 million members every day.
The first podcast, How to Design a Discovery Map®: Touchstone Energy's Journey into Discovery Learning, discusses Touchstone's world-class experience with Paradigm Learning and the process of designing its own custom Discovery Map® to educate its members about what makes Touchstone different and expand brand awareness. The podcast features Ann Maggard, director of communications and membership for Touchstone Energy, and Robb Gomez, president of Paradigm Learning.
In part 2 of this podcast series, Assessing Discovery Map® Results: Part 2 of Touchstone Energy's Journey into Discovery Learning, Ann and Robb share further discussions about Touchstone Energy's goals for its Discovery Map® program and the metrics used to assess learning outcomes. Ann also provides insights into how Touchstone marketed the program internally and used the Discovery Map in various ways to meet different learning needs.
What Is Discovery Learning?
Discovery learning is a proven instructional approach that actively involves participants in the learning process. Techniques like business games, simulations and Discovery Maps® are all part of well-designed discovery learning sessions. They all lead to accelerated learning, high knowledge retention and motivated learners who can successfully transfer what they've learned in a classroom setting to their jobs.
What Is a Discovery Map®?
Discovery Map exercises are fully customized educational sessions designed to ensure the strategic alignment of employees around corporate vision, strategies and new initiatives. Colorful table-sized "maps" create a visual foundation for a one- to three-hour learning experience that transfers knowledge with unrivaled clarity using discovery learning techniques.
About Paradigm Learning
Since 1994, Paradigm Learning (http://www.ParadigmLearning.com) has created award-winning business games, simulations and communications tools for the world's leading organizations. Its flagship program, Zodiak®: The Game of Business Finance and Strategy, has been played by more than 1 million people worldwide.
Contact:
Kristan Evans
(813) 287-9330, ext. 181
Kristan.Evans(at)ParadigmLearning.com
###