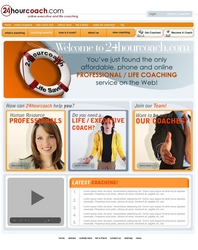 Our chief want in life is someone who will make us do what we can.
Syracuse, NY (PRWEB) March 19, 2009
Do a quick search on Google for "online coach" and you won't find much help, at least until now, with the launch of 24hourcoach.com, a new web-based executive and life coaching service.
"The troubled economy, the worldwide explosion of social networks sites and the growing number of excellent coaches wanting to help more people, make for the perfect storm," says Lisa Slade, president of 24hourcoach.com. "There's a whole generation of people online 24/7 who don't know about the benefits of coaching and would not think they could afford a personal coach," said Slade. The site allows anyone the ability to work with an experienced life coach or executive coach for a very affordable price.
Let's say you have an individual who is out of work and has tried everything to find work but is still unemployed after months of searching. Or maybe it's someone who dreads going to work every day knowing deep down inside that his or her dream is to start a business. Or how about an employee who is unsure of the best way to effectively deal with a boss's enormous ego. Any one of these individuals could register on the site and receive help from one of the sites online coaches through a reply on the site or through a previously scheduled coaching phone call.
"The site is completely user-friendly and very much what people my age will be comfortable with," says Erica Puccia, a recent communications grad and business development manager for 24hourcoach. The online coaching process is complete in just four simple steps. 24hourcoach.com gives you the ability to check out a coach's credentials in the bio section, share your coaching experience with your friends online, and even rate a coach's response, similar to a book or movie review. The company is even adding Facebook and Linked In pages where additional collaboration can take place. The unique 4 questions that start every coaching session help you clarify your thinking right up front and structure your thoughts so you begin thinking differently from the start.
Ralph Waldo Emerson said, "Our chief want in life is someone who will make us do what we can." The premise behind the site is that anyone can benefit from working with an online coach one-on-one to accomplish his or her goals. Most of our problems in life are created by ourselves -- by the way we see the world. Coaching is a very different kind of conversation than you'd have with a friend, family member or trusted colleague. It's like having a thought partner whose sole job is to help you achieve your desired outcome. 24hourcoach makes it easy for everyone to take advantage of the many benefits of coaching.
Slade's husband Michael, a senior-level human resource professional and executive coach who has had the pleasure of working with multiple executive coaches said, "I wish I had something like this when I was in my twenties. At one point early in my career I was in a position I enjoyed and thought I was good at, but I had serious relationship issues with my boss and a more senior co-worker. I had no skills to influence the outcome in my favor and I'm lucky I didn't get fired. I wasn't afraid to ask for help, but my well-intentioned friends didn't know how to help me."
24hourcoach was created by a group of certified coaches to help people around the world realize the powerful benefits of coaching. It's the only affordable online coaching service of its kind. 24hourcoach believes everyone, not just senior-level executives and Olympic athletes, can benefit from having a coach.
For more information or to schedule an interview, please call Erica Puccia at 315-532-0312
###