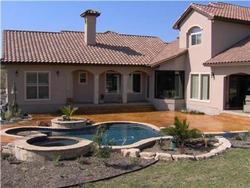 Yucaipa, CA (PRWEB) March 20, 2009
The proper design of a pool deck is imperative to its functionality. Oftentimes, the pool deck will become a home's most popular area for entertaining, and for this reason, ConcretePoolDecks.org has outlined five of the most common mistakes to avoid when designing the perfect deck. These helpful pool deck design tips cover proper size, layout and functionality.
More than just an area that surrounds a pool, pool decks are a multipurpose area where people can entertain, sunbathe or just relax on a warm afternoon. For proper pool deck design, one should consider the following five tips:
1. Provide plenty of seating.
2. Properly layout water spigots.
3. Take full advantage of the sun.
4. Decide how the deck will be used and consider the pools distance from the house.
5. Create functional walkways.
Outlined in greater detail on the site, these tips cover some of the most frequently made mistakes in pool deck design. Their consideration is crucial; after mistakes are made and pool decks are put in place, decks can often not be fixed.
The site also reminds consumers that while a pool deck may essentially look and function like a patio, one should also keep in mind that it has unique requirements for slip resistant surfaces beyond what the typical patio requires. By incorporating some decorative concrete elements, one can successfully avoid slippery finishes and incorporate a beautiful decorative finish as well. Visit the site's photo gallery for more pool deck design ideas.
ConcretePoolDecks.org is dedicated to helping consumers get started in asking the right questions and learning about what the possibilities are when it comes to designing a functional and appealing pool deck. The site also brings together consumers and local concrete contractors by pointing to a nationwide contractor directory. Consumers can use the site to learn about concrete pool decks, choose photos of designs they like, and then access the directory for contact information for concrete pool deck contractors in their local area.
Photos courtesy of CCS.
###