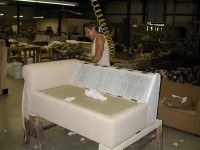 We build furniture built to last at affordable prices and our customers appreciate that.
Hickory, NC (PRWEB) March 19, 2009
CarolinaChair.com is a third generation, family-owned furniture company headquartered near Hickory, North Carolina. The company keeps costs low by not selling in stores and they do not manufacture in bulk for wholesale middlemen. Each piece of furniture is handcrafted one piece at a time, custom built for the customer.
How have they survived when so many furniture companies have gone out of business or outsourced all of their manufacturing overseas?
"Our customers are looking for furniture with long-term durability and timeless style. They know the difference between real quality and cheap imports," says H.D. Fry, III, owner of CarolinaChair.com. "They really appreciate that our furniture is made in the United States by a family-owned business. When our customers compare our quality and prices to furniture retailers and even online furniture stores, they know that we offer the best value."
Fry's sister Cathy Fry adds, "Our customers love that they can customize any aspect of their furniture, including choosing from our thousands of fabrics or providing their own fabric. They can even make style or dimension changes to their furniture without it costing an arm and a leg because we are the manufacturer. And we offer different cushion options. We even send our customers photos of their furniture after it is built. Plus we offer free shipping and in-home delivery for all of our furniture and nearly everything is delivered within six to seven weeks," adds Cathy Fry.
Fry's grandfather, H.D. Fry Sr., founded the Hickory-Fry Furniture Company in 1926, trading a portion of his apple orchard for a building he would use to manufacture quality furniture. The company survived the Great Depression and now, more than eighty years later, CarolinaChair.com is growing on the same values of craftsmanship, honesty, integrity, reliability, hard work and pride in building a quality piece of furniture.
CarolinaChair.com launched their web site, http://www.carolinachair.com, in 2000 and appreciated slow but steady growth. They were and continue to be the only North Carolina furniture company that sells its furniture online direct to consumers. In 2003, CarolinaChair.com received positive national attention when they were featured in a Wall Street Journal article "Can you really buy a couch online?" which chronicled the writer's search for the perfect sofa.
In 2009, CarolinaChair.com furniture continues to be featured as prizes on "The Price is Right". "We are proud of our nine year relationship with 'The Price is Right'," says owner Fry. "The show has given our company national exposure that would be difficult for us to purchase through conventional advertising."
As for the future?
"Consumers are nervous right now and furniture is a big ticket item, but our customers know that furniture should be an investment not a disposable item. We use all hard wood frames (wood from the Appalachian Mountains) and eight way, hand tied seating systems - the highest quality construction possible. In a way, we are the ultimate green furniture company," comments Dee Fry. "We build furniture built to last at affordable prices and our customers appreciate that."
About Carolina Chair
Headquartered near Hickory, North Carolina, CarolinaChair.com is a third generation family owned company that custom builds quality upholstered furniture at affordable prices. The company manufactures a full line of comfortable products for the living room and family room, including the company's renowned sectional sofas, sleeper sofas and love seats and chairs.
If you'd like more information about this topic or to schedule an interview with CarolinaChair.com, please call 1-800-653-9757.
###