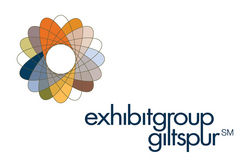 We started a customer-centric revolution last year and are returning with multiple opportunities to show colleagues how to bring a brand to life for today's cautious consumer.
Chicago, IL (PRWEB) March 19, 2009
This year's more than 6,000 EXHIBITOR2009 conference attendees will experience a whole new dimension of exhibit and event marketing. Leading experiential marketing agency Exhibitgroup/Giltspur (EG) will allow booth visitors to make an immediate impact on the environment, while learning the latest tools and techniques to create meaningful and memorable brand experiences. Through EG's GlobalGreen Giving in-booth activity, attendees can select their preferred environmental organization to receive a cash donation from EG.
"This new dimension is the true definition of everything we do for our clients, consistently delivering more than they expect," said David Saef, senior vice president of strategy and marketing for EG. "We started a customer-centric revolution last year and are returning with multiple opportunities to show colleagues how to bring a brand to life for today's cautious consumer."
EG continues its commitment to the environment by limiting paper collateral for attendees. Instead, booth visitors partake in a brief survey that results in a customized thumb drive full of information related to their unique responses, immediate needs and pain points.
EG's industry experts and thought leaders will also host several Learning Events and Peer2Peer Roundtables, giving attendees the chance to directly address industry advances and challenges in today's business environment. A special pre-conference egSmartStaffSM training session on Sunday, March 22 will provide insider training tips for maximizing a booth staff's effectiveness before, during and after a conference. Other session topics include The Greening of the Exhibit Industry, International Exhibiting - A Primer for Success, and More Than Skin Deep: Building the L'Oreal Brand in the Dermatology Market.
This new dimension created by EG is supported by four thematic pillars that reinforce the company's client-centric approach - Endless Imagination, Superior Results, Unforgettable Experiences and Peace of Mind. Tempered with a dose of economic reality, EG's offerings to conference attendees address the increasing need for cost efficiency, measureable results and sustainability.
In addition to its exhibit features and opportunity for attendees to make an environmental impact, EG is also offering free shuttle rides from McCarran International Airport on Sunday. Attendees can sign-up for a free ride by visiting the registration page or by calling 1-866-366-1405.
"We understand what our customers are facing these days, and we want to demonstrate how we can help them by living what we sell," said John Jastrem, president and CEO of EG. "Many parts of our exhibit are made up of the same affordable rental properties and sustainable materials we offer them. We're all about helping our clients do more with less and have the advanced technological tools that give their brands the biggest impact at the greatest value."
About Exhibitgroup/Giltspur (EG)
Exhibitgroup/Giltspur (EG) is an award-winning experiential marketing agency known for creating meaningful and memorable connections between leading companies and their customers. By producing powerful brand experiences through exhibits, events, mobile marketing tours, permanent installations, and temporary retail environments, EG helps clients accelerate the sales process, deepen brand loyalty and consistently deliver superior results. The company also creates branded entertainment experiences that surprise and delight audiences worldwide. Backed by the financial strength of its parent company, Viad Corp (NYSE: VVI), EG employs more than 600 professionals in 28 client care centers throughout the world. For more information, please visit http://www.e-g.com.
Learn more about EXHIBITOR2009 by visiting their website: http://www.exhibitoronline.com/exhibitorshow/
###