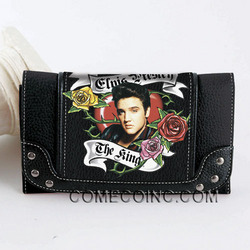 Baldwin Park, CA (PRWEB) March 20, 2009
The fame of such songs as "Hound Dog" and "Jailhouse Rock" is what put Elvis Presley on the musical map. Combining the beat of rhythm and blues with an uptempo fusion of country, Elvis Presley shot to stardom with his rendition of existing songs that were mixed with the novelty of rock n roll. Along with his uninhibited onstage and television performances, The King became the timeless cultural icon that everybody loved and still worships.
Fortunately, for the millions of fans still in love with the charismatic King of Rock n Roll, ComecoInc.com offers wholesale handbags, backpacks, belt buckles and a whole load of other chic accessories that has ultimately captured the very essence of the King. Wholesale handbags in a variety of styles such as vinyl bags, tote bags, shoulder bags, hobo bags and messenger bags are up for grabs with ComecoInc.com's tribute to Elvis Presley. The dashing good looks of the legendary icon is also eternally etched on vinyl wallets, coin purses and even cosmetic boxes.
With the help of the Elvis design team, the online maker of wholesale handbags strives to combine the hottest and latest in fashion styles for the Elvis Presley handbags collection, bringing to life every characteristic and visage of the rock n roll king who has captured the hearts of millions around the globe. For as low as $5.00, consumers can show their love for Elvis with fashionable and original, licensed wholesale handbags, wallets, card holders and key rings.
ComecoInc.com, a leading manufacturer for wholesale handbags, wholesale belts, wholesale sunglasses and wholesale purses, also has a vast array of licensed wholesale handbags of Coca Cola, Cadillac, USPS and even Marilyn Monroe. Enjoy wholesale shopping at ComecoInc.com, where customers are guaranteed of the most stylish and affordable wholesale handbags.
About ComecoInc.Com
Comeco Inc.Com is one of the leading online manufacturers of wholesale handbags, wholesale sunglasses, wholesale belts, and wholesale accessories. Comecoinc.com is also an official licensee of GM, Coca-Cola Corporation, CMG Worldwide (for Marilyn Monroe), Elvis Presley Enterprises, and USPS. With an in-house special design team, wholesale handbags are guaranteed to be the latest and hottest in fashion.
###