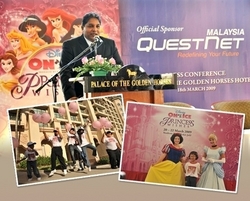 At QuestNet Malaysia, we also believe that strong family values are the backbone to a strong nation and events like this are a great way for parents with children of various ages to spend time together, doing one activity as a family. This will help strengthen family values and the emotional bond among family members
Kuala Lumpur (PRWEB) March 20, 2009
This year, Disney on Ice will celebrate 10 magical years in Malaysia. In line with this celebration, the official sponsor of Disney on Ice, QuestNet Malaysia will treat 46 underprivileged children from Rumah Kasih (Petaling Jaya) and Rumah Bakti (Hulu Kelang), to some magical moments with Disney on Ice Princess Wishes.
To commemorate the handing over of the tickets to the children's homes, a fun-filled afternoon tea was held at the Palace of the Golden Horses - the official hotel for Disney on Ice, which also co-sponsored the afternoon tea. General Manager of QuestNet Malaysia, Navaratnam Velanadam presented RM8188 worth of tickets to representatives of the two homes.
At the event, children were treated to a sumptuous buffet spread and had a bouncy time at the inflatable castle and horse-drawn carriages put together especially for them.
"As the official sponsor of the event since 2005, we hope to continue to give Malaysians from all walks of life a chance to experience classic Disney stories recreated and brought to life. It gives us great joy to treat these special children to a magical day out and we hope that it will be a fun and enriching experience for them and their guardians," said Mr Velanadam.
"At QuestNet Malaysia, we also believe that strong family values are the backbone to a strong nation and events like this are a great way for parents with children of various ages to spend time together, doing one activity as a family. This will help strengthen family values and the emotional bond among family members," added Navaratnam.
Since its first performance in 1999, Disney on Ice, produced by Feld Entertainment, has drawn more than half a million spectators in Malaysia.
Through artistic skating and graceful acrobatics, Disney On Ice Princess Wishes beautifully recreates the defining moments when seven well-known Disney princesses wishes are fulfilled. With Tinker Bell as their guide, guests will see the inspiring stories of Ariel, Belle, Cinderella, Mulan, Jasmine, Sleeping Beauty and Snow White unfold and witness the princesses' wishes being granted.
Focusing on the moments where the princesses' dreams come true, the show uses high-energy music, glittering sets and dramatic choreography to make it a truly breathtaking experience.
Disney on Ice Presents Princess Wishes will be staged from 20-22 March 2009 at the Stadium Putra Bukit Jalil, Kuala Lumpur. To purchase tickets or for enquiries, call the Axcess hotline on +603 77115000.
About QuestNet:
QuestNet Ltd is an international direct sales company and network marketing business that recently celebrated its 10th Anniversary as a market innovator and leader in its field.
Operating a global sales force, QuestNet offers a high-quality product portfolio consisting of consumable and everyday products, brand-name items, luxury and collectibles, personal care and wellness products, vacation packages, and telecommunications.
The company also provides business opportunities to millions of people around the world by offering entrepreneurial aspirants the opportunity to run their own business through an e-commerce platform, while providing the Information Technology knowledge and business tools for these people to succeed. The company also educates various governments and populations of developing countries about computer usage, Internet connectivity and e-commerce.
For more information about 'Disney on Ice Princess Wishes' contact:
Ms. Norhani Ahmad Jaya
PR Manager, Office of the Executive Chairman
QI Services (M) Sdn Bhd
Tel: +603 7957 4599
Fax: +603 7956 0697
Mobile:+6012 3320 536
###