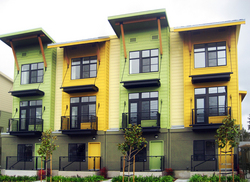 The response to this auction only confirms our belief that there are buyers out there - even in the toughest hit areas of the real estate market
Newport Beach, CA (PRWEB) March 20, 2009
There's just two weeks to go in the online auction of 19 brand-new townhomes in the Oakland/Emeryville area, and already almost 100 prospective buyers have registered to bid. The auction, on the Freedom Realty Exchange website, has a rapidly-approaching bid deadline of Thursday, April 2nd.
"The response to this auction only confirms our belief that there are buyers out there - even in the toughest hit areas of the real estate market", says LFC Director of Operations Kelly Lovegrove.
In a plan to close the price gap between buyers and sellers, the seller has decided that pricing for the 19 contemporary metropolitan townhomes at City Crossing will be decided by the highest bidder. And with only two weeks remaining, now is the time for prospective buyers to go to http://www.FRE.com/321R3 and register to bid before time runs out and all 19 properties are sold. These detached townhomes that previously listed at more than $500,000, now have minimum bids starting as low as $179,000.
City Crossing offers three similar two-bedroom, two-and-a-half-bath open floorplans measuring approximately 1,400 square feet. Interior styling utilizes clean lines accentuated by hardwood, metal and stone for a decidedly contemporary feel.
Conveniently located just 15 minutes from San Francisco and in close proximity to public transportation offerings such as; BART, Emery-Go-Round, and the 80 freeway, the City Crossing townhomes are built with convenience and comfort in mind.
FRE.com auctions are conducted completely online. Bidding in an FRE.com auction begins with the submission of a bid form and a bid deposit. Subsequent bids are placed over the Internet in the privacy and comfort of the buyer's office or home. Properties are available for viewing five days a week until the bid deadline of April 2nd. Important property documents and disclosures are available on FRE.com (http://www.FRE.com/321R3) for download and review, ensuring that buyers are fully informed before they purchase. Broker participation is welcome.
Freedom Realty Exchange®--a member of the LFC Group of Companies
For more than 30 years, the LFC Group of Companies has served numerous Fortune 500 companies, real estate developers, investors, financial institutions and government agencies by auction-marketing thousands of commercial, industrial, land and residential properties with an aggregate value well in excess of $5 billion. http://www.FRE.com
###