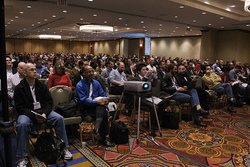 Twitter as a Tool for Social Media
New York, NY (PRWEB) March 20, 2009
Although there are scores of search engine marketing (SEM) sessions and workshops at Search Engine Strategies (SES) New York 2009, including ones on search engine optimization (SEO) and pay-per click (PPC) advertising, the conference agenda also features a Twitter keynote, a Facebook workshop, plus a Social Media & Blogging Track. Why does the must-attend SEO and SEM conference include an opening keynote on "Twitter as a Tool for Social Media", a "Facebook Workshop: Harnessing the Social Graph", a blog workshop, four social media sessions plus two more on online communities?
Matt McGowan, Vice President and Publisher for Incisive Media's Interactive Marketing Group, which includes Search Engine Strategies, Search Engine Watch and ClickZ, said, "Since 1999, the Search Engine Strategies (SES) conference has been focused on search engine optimization (SEO) and search engine marketing (SEM). However, Google's acquisitions of Blogger and YouTube as well as Yahoo! acquisitions of Flickr and Del.icio.us blurred the lines between SEO and social media marketing (SMM). So, our conference agenda reflects this expanding definition of the search engine marketing industry."
The SES New York 2009 conference agenda includes:

Monday, March 23: An SES training workshops on "Corporate Blog Strategies: Blog Your Way to Success." This workshop is for marketers and business owners that want to learn more about harnessing the power of blogs to build buzz about their business online.
Tuesday, March 24: Opening keynote on "Twitter as a Tool for Social Media" by Guy Kawasaki, Author of "Reality Check: The Irreverent Guide to Outsmarting, Outmanaging, and Outmarketing Your Competition" and Founding Partner, Garage Technology Ventures.
Wednesday, March 25: There is a "Facebook Workshop: Harnessing the Social Graph", as well as conferences sessions on "Small Voices, Big Impact: Social Media for the Little Guy" and "Social Media Marketing for Brand Building".
Thursday, March 26: There is a Social Media & Blogging Track with four conference sessions: "An Update on Social Media Optimization", "4 Views of Social Media: Planning a Successful Social Media Strategy", "Online Communities: A Bonanza of Content for Searchers and Search Engines" and "Online Communities: Blogging for Business."
McGowan added, "According to comScore qSearch 2.0, there were 2.7 billion expanded search queries conducted on YouTube and 206 million conducted at Facebook in February 2009. And according to Hitwise Intelligence, the top websites visited after people use Twitter are Google, Facebook, TwitPic, MySpace, Twitter Search, Yahoo! Mail and YouTube. We know the approximately 5,000 SEM specialists, SEO consultants and chief marketing officers who attend SES New York 2009 will want to learn the tips, tactics and strategies for social marketing as well as search engine marketing."
For more information about SES New York 2009, go to rates and registration details. Register today and get access to these special offers: MarketMotive is offering one month of free online search marketing training, Trellian is offering a free standard subscription for 30 days, and Dun & Bradstreet's Online Business Network is offering a free subscription for 3 months.
About SES
Incisive Media's Search Engine Strategies is a leading global conference and training series focused on search engine optimization and search engine marketing. Other Incisive resources for interactive marketers include Search Engine Watch, which provides news and information about search, analysis of the search engine industry and tools for improving search marketing effectiveness, and ClickZ, which provides digital marketing news, information, commentary, advice, opinion and research.
Incisive Media is a leading global provider of specialized business news and information, in print, in person and online. The company's principal markets include financial services, legal services, commercial real estate, marketing services and risk management. Incisive Media's market-leading brands include Accountancy Age, Computing, Investment Week, Legal Week, LegalTech, Post, Real Estate Forum, Risk, Search Engine Strategies and The American Lawyer.
###