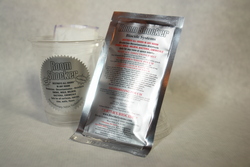 The Room Shocker allows users to literally clean the stale air that has accumulated in their homes over the cold winter months
Los Angeles, California (PRWEB) March 20, 2009
Around the country families are getting ready for warm weather with the annual tradition of Spring cleaning. Biocide Systems recently introduced the Room Shocker, guaranteed to eliminate strong stale and stubborn musty odors while disinfecting, sanitizing and completely deodorizing any room, making it a great addition to any Spring cleaning arsenal.
"The Room Shocker allows users to literally clean the stale air that has accumulated in their homes over the cold winter months," said J.C. Baselli, partner owner with Biocide Systems. "In just three easy steps the Room Shocker creates cleaner, safer and fresher air."
Guaranteed to disinfect and completely deodorize any room and will even get rid of pet odors in less than 24 hours, Biocide Systems' Room Shocker is inexpensive and it is safe for people, pets and the environment. The Room Shocker not only removes odors, it also destroys harmful pathogens like smoke and bacteria. The Room Shocker improves air quality by killing mold spores and other microbes, helping people with allergies or respiratory problems.
Biocide Systems' Room Shocker can be purchased online at BiocideSystems.com. It is currently available in two formulas, Quick Release and 30-Day Timed Release. Both formulas are sold for less than $25 and Room Shocker is available with a 100 percent money back guarantee.
About Biocide Systems: Biocide Systems is located at 459 East 4th Street, Los Angeles, CA 90013. Biocide Systems is dedicated to creating a cleaner, safer and healthier planet for us, our children and for future generations. All Biocide products are EPA (Environmental Protection Agency) approved. Biocide Systems products include: the Room Shocker, the Auto-Vaccine and the RV and Marine Shockers. Each is available in the Quick Release and 30-Day Timed Release formulas. For more information visit our Web site http://www.BiocideSystems.com or call (877) RX_BIOCIDE. To interview J.C. Baselli, contact him directly at: (877 792-4624) or via Email at jcbaselli (at) BiocideSystems (dot) com.
# # #