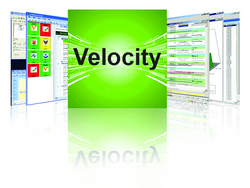 We understand that the dynamics of the today's market are constantly changing, especially given the economy compounded by diminishing advertising revenue
Springfield, MA (PRWEB) March 21, 2009
VCI Solutions, a provider of software solutions for broadcast and cable operations, has announced that they will introduce Velocity, a new revolutionary product, at this year's NAB Show. Velocity is an advanced, real-time software solution that manages all Sales, Traffic, and Automation activities for broadcast and cable business operations. It provides a new way to manage the back-office business workflow; all while reducing operational costs and positively impacting the bottom line.
Velocity is unlike anything in the market and goes far beyond integration of multi-vendor products using BXF. It is the complete end-to-end system that provides the ultimate control over all facets of the business operation. Another unique benefit that Velocity affords is the simplicity in working with one vendor partner for all service, support and training across the Sales, Traffic and Automation operations.
"We understand that the dynamics of the today's market are constantly changing, especially given the economy compounded by diminishing advertising revenue," said Sarah Foss, President/CEO of VCI Solutions. "It has become imperative for media companies to either gain revenue through new sources or reduce operational costs. Our new Velocity product is a necessary solution that will enable media companies to immediately eliminate costs and positively impact their bottom line ROI."
"Velocity is truly in a class all its own - it encompasses modern functionality built upon a robust platform," said Jamie Meyer, VP Product Development of VCI Solutions. "Leveraging a single management system for Sales, Traffic, and Automation activities provides numerous benefits beyond tradition ROI; such as best practices workflow; consolidated reporting; cross training, etc… We are pleased to be the first to market with this new revolutionary product."
VCI Solutions will be giving Velocity demos at the NAB Show by appointment only in their hospitality suite at the Renaissance Hotel. For more information or to schedule your demo please visit http://www.vcisolutions.com/2009nabshow.com.
# # #