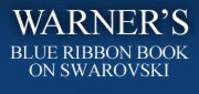 Middletown, OH (Vocus) March 21, 2009
Warner's Blue Ribbon Books continues their success in their annual release of publications for 2009. They are again offering four books with the latest information on new Swarovski crystal product releases together with accurate Swarovski Value (they use the term ERV) for Swarovski Crystal products that have been retired.
Warner's Blue Ribbon Books on Swarovski has been publishing Swarovski Books on Crystal for sixteen years. No one else in the world has published a book about Swarovski Value more than two times! Other authors claimed they could do it cheaper and better; however, the bottom line is that it takes a lot of time and commitment to do this each year. No one else has been willing to commit as they have. The authors, Tom and Jane Warner, ARE Swarovski collectors and they know how important these books are to keeping Swarovski collections organized and insured!
The Silver Crystal Price Guide contains photos and detailed information about SCS products and Silver Crystal product releases (as well as product variations on those releases) for the past 23 years! That's over 2300 Swarovski Crystal items in the Silver Crystal Book.
The Beyond Silver Crystal Swarovski Price Guide contains information on over 1600 Swarovski Crystal and Products. While some products were commissioned for exclusive use by their own company, such products were made by Swarovski using Swarovski Crystal. Many collectors are intrigued by these types of products as well, so as the items are discovered, they are continually added to this price guide each year.
Warner's Blue Ribbon Book on Swarovski: Beyond Silver Crystal is the corresponding book for all the items that are not in Swarovski's Silver Crystal product line. This Swarovski Book contains: Crystal Moments, Home & Interior, Daniel Swarovski Home Accessories, Daniel Swarovski Masterpiece, Julia's World, Perfumes, Paperweights, Trimlite, Crystal Signatures, Christmas Memories, Crystal Scents, CrystalograMs, Buddha, Arribas Creations, Crystal Paradise & more! Warner's Blue Ribbon Book on Swarovski: Beyond Silver Crystal is growing in demand due to Swarovski restructuring their product lines. For example, when Swarovski takes an item from the Silver Crystal product line and moves it to the Crystal Moments product line, it is moved from the Silver Crystal Book to the Beyond Silver Crystal Book.
The authors realize that cost is an important factor when making any purchase. For this reason, they continue to offer both their Swarovski books in a COLOR picture format as well as a Black & White picture format. The content and Swarovski information in the books is the same. The pictures are the difference.
Warner's Blue Ribbon Books on Swarovski can be found by visiting their website which has been online for over 15 years. Swarovski collectors and readers come back each year to stay on top of their Swarovski collection value and management.
For the passionate collector looking for more than Swarovski Books, they can also provide recommendations to reputable brokers like Crystal Exchange America. Crystal Exchange America presently has over 4000 products in their online store, most of which is retired Swarovski. For collectors who prefer information online, the authors recommend subscriptions to their online book, found on Warner's Blue Ribbon Books Online. The Warners also know many collectors who like Star Track Software which is based on their successful books. The pc software is built from Microsoft Access and allows users to keep their information on a pc, printing reports for their insurance and tracking needs.
Warner's Blue Ribbon Books on Swarovski is not affiliated with, endorsed, or sponsored by Swarovski. They simply research and report information that they believe is a valuable asset to Swarovski collectors.
###