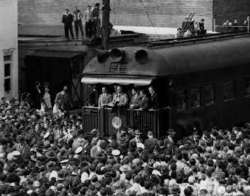 No marketer knows it all. And if they do, they're probably speaking at OMS
New York, NY (PRWEB) March 24, 2009
ClickZ and the Online Marketing Summit today announced they have teamed up to launch an unprecedented nationwide whistle stop tour of internet marketing seminars, SEO workshops, and educational events, under the brand Online Marketing Summit hosted by ClickZ.com (OMS). OMS will also be offering the 4,000 marketing professionals in 14 cities across the U.S. who attend one of these events the opportunity to participate in the Online Marketing Institute's new "Essentials of Online Marketing" Certification Workshop.
The 2009 OMS Regional Whistle Stop Tour combines OMS, the only purely educational event of its kind built around content that drives action and delivers insight that online marketers can immediately build into their marketing plans, and ClickZ.com, the world's largest online resource of interactive marketing news, information, commentary, advice, opinion, research, and reference.
By train, from Boston to Seattle, OMS will bring the latest in Online Marketing best practices direct to the doorsteps of marketing professionals across the nation. OMS is stopping at every major metropolitan area and many other cities in between from May 5 to July 2, 2009, attracting marketers from leading companies who will gather to share best practices and learn from expert online practitioners.
With daily posts, tweets and video at each stop, "The Whistle Stop Tour" can be followed at http://blog.onlinemarketingconnect.com/ and http://www.clickz.com. At each stop, leading educators in online marketing will facilitate a world-class forum of best practices in interactive marketing through hands-on classes, thought leadership panels, and credit-worthy workshops.
The 2009 OMS Summit includes sessions on:
-- Social Media Business Strategies
-- Search Engine Marketing in-depth education
-- Website Usability Primers
-- Customer Experience Best Practices
-- Web Analytics & ROI Tracking
-- Planning & Budgeting for Online Success
-- Email Marketing & Landing Page Tactics
-- Website Strategy Thought Leadership
-- Behavioral Targeting & Testing
"No marketer knows it all. And if they do, they're probably speaking at OMS," noted Matt McGowan, Vice President and Publisher for Incisive Media's Interactive Marketing Group, including Search Engine Strategies, Search Engine Watch and the ClickZ Network. "If there's a question you have, there's likely a session that will answer it. Attendees will not only receive invaluable education and direction from each session, but they'll also have the opportunity to network, collaborate and share ideas with interactive marketers from leading companies around the world."
"With corporate travel budgets and personal vacations a thing of the past, we thought it was more important than ever to bring the education to the marketer in a manner that is affordable, accessible and, of course, enjoyable," said Aaron Kahlow, founder of Online Marketing Summit. "Like OMS Annual, we will continue to work with our marketing brethren to provide financial aid to those in need. Education in our industry is not a luxury, it's a necessity, so I refuse to let money get in the way helping everyone become a marketer."
Discounted passes are still available and include access to the 2009 Education Library Center, where participants can download the slides, videos and other materials from the internet marketing seminars, SEO workshops and presentations. To register, visit https://www.onlinemarketingsummit.com/registration/. For more details on the Online Marketing Summit event and other ClickZ events including free online marketing webinars visit http://events.clickz.com/. OMS is still looking for speakers and sponsors. Go to https://www.onlinemarketingsummit.com/speaker/ to apply or to https://www.onlinemarketingsummit.com/sponsors/ for more information
About Incisive Interactive Marketing LLC -- A Division of Incisive Media PLC:
Incisive Media's ClickZ Network is the largest resource of interactive marketing news, information, commentary, advice, opinion, research, and reference in the world, online or off-. From search to e-mail, technology to trends, our coverage is expert, exclusive, and in-depth. Other Incisive resources for interactive marketers include the Search Engine Strategies global conference and training series focused on search engine optimization and search engine marketing and Search Engine Watch which provides news and information about search, analysis of the search engine industry and tools for improving search marketing effectiveness.
Incisive Media is a leading global provider of specialized business news and information, in print, in person and online. The company's principal markets include financial services, legal services, commercial real estate, marketing services and risk management. Incisive Media's market-leading brands include Accountancy Age, Computing, Investment Week, Legal Week, LegalTech, Post, Real Estate Forum, Risk, Search Engine Strategies and The American Lawyer.
About the Online Marketing Summit (OMS):
The Online Marketing Summit is truly unique from any other conference. There are no vendors, no salesmen, no exhibitors/booths and no pitching allowed. This educational environment facilitates incredible learning, networking and collaboration opportunities amongst like-minded marketing peers. OMS is singularly committed to its mission to educate marketers on the emerging best practices of online marketing.
###