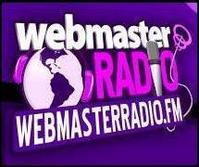 Fort Lauderdale, FL (PRWEB) March 23, 2009
WebmasterRadio.FM, the premier free, 24/7 Internet business radio network focused on the B2B marketplace and the official radio network of the Search Engine Strategies (SES) conference series, announces exclusive coverage from the SES conference March 23-27 in New York City.
"Our coverage of this month's Search Engine Strategies conference paves the way for an enhanced event experience with live programming, interviews from the show floor and keynote and panel coverage," said WebmasterRadio.FM Vice President of Marketing Brandy Shapiro-Babin. "This coverage makes important panels, keynotes, event highlights and the most important news and insights available to SES followers and fans everywhere, allowing them to reap the greatest benefit from this cornerstone industry event."
WebmasterRadio.FM is the official radio network of the Search Engine Strategies conference series, the largest and most important conference dedicated to the search engine and search engine marketing industries.
All WebmasterRadio.FM programs are available in podcast format through all major podcast portals, and in archived format on-demand inside our Search Engine Strategies Podcast Channel http://www.WebmasterRadio.FM/search-engine-strategies-conference.
WebmasterRadio.FM's exclusive coverage will feature Live streaming of keynote addresses featuring Guy Kawasaki on Tuesday March 24th at 9am Eastern Time and John Gerzema on Thursday March 26th at 9am Eastern Time.
WebmasterRadio.FM will also broadcast live the Orion panel on Thursday March 26th at 1pm Eastern Time, along with various sessions and functions. We will also feature live interviews and original programs from our broadcast location at booth #1228.
About WebmasterRadio.FM
WebmasterRadio.FM's stellar line-up of radio programming includes "CoverStory" with Jiyan Wei, product manager for Vocus and PRWeb, WebmasterRadio.FM's official newswire; "SEO 101" with Ross Dunn; "PPC Rockstars" with host David Szetela; "Landing Page Optimization" with Tim Ash; "SEO Rockstars" featuring Daron Babin; "Life Tips" with Byron White and Amanda Smyth; and many more.
Media Contact:
Brandy Shapiro-Babin
WebmasterRadio.FM
954-309-5578
###