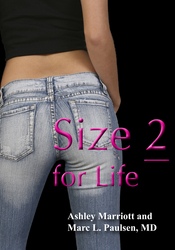 Newport Beach, Calif. (PRWEB) March 23, 2009
Nationally acclaimed fitness authors Ashley Marriott and Marc Paulsen apologized today for inadvertently releasing what might be the most unintentionally erotic cover for a diet and fitness book ever. According to Ashley and Marc the title text for their new book, Size 2 for Life, was laid down in advance of the model image being placed and the rather awkward positioning of the little "f' in the word "for" was only recognized after the book had been released. The authors promise to correct the error in the next edition.
Size 2 for Life is available at Amazon as well as bookstores and retailers worldwide.
# # #