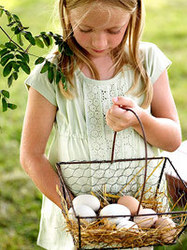 Celebrate Easter -- and spring -- with these fresh and easy ideas for decorating, crafts, and food
Des Moines, IA (PRWEB) March 25, 2009
Better Homes and Gardens magazine and BHG.com today highlighted a dozen great ideas for Easter crafts, Easter decorations and Easter recipes. These features are designed to help women and families prepare for the holiday with new ideas for Easter eggs and baskets as well as Easter games and activities.
"Celebrate Easter -- and spring -- with these fresh and easy ideas for decorating, crafts, and food," said BHG.com Senior Holidays Editor Debra Steilen. "Sign up for our free-e-newsletter to get great ideas for the holidays and all days in-between," she added.
Here are the dozen great Easter ideas developed by the experts at Better Homes and Gardens:
Easter Crafts: Show off your creativity with these pretty Easter crafts projects:

Easy-to-Make Easter Cards: Wish a special someone a Happy Easter by handcrafting one of these delightful cards.
Easter Crafts for All Ages: Try these fun crafts your whole family can enjoy for Easter.
Eco-Friendly Easter Baskets: Stock your family's baskets with a collection of eco-friendly and garden-inspired goodies.
Easter Recipes: Make the best Easter brunch or dinner ever with this collection of tempting dishes.

Fun-to-Make Easter Treats: Get creative with these fun ideas for easy Easter snacks.
Our Best Easter Menus: From main course to dessert, these traditional and new meal ideas take the guesswork out of creating a delicious holiday dinner.
An Easter Brunch that Dazzles: Whether you're planning a simple brunch for a small group, or a meal for a crowd, we've got just the right recipes for you.
Easter Decorations: Celebrate Easter -- and spring -- with these fresh and easy ideas for tables and more.

Super-Simple Easter Decorations: Catch a case of spring fever with these quick-and-easy Easter-theme accents for your home.
Simple Spring Centerpieces: Whether you need to decorate for Easter or for spring entertaining, these mantel displays, floral arrangements, and centerpieces add just the right touch!
Easter Eggs and Easter Baskets: Create unique Easter eggs and baskets to delight kids of all ages.

Quick-and-Easy Easter Egg Decorations: Use one of these fresh decorating techniques to adorn springtime Easter eggs.
Easy Easter Baskets & Bags: Get the family together to craft these fun, simple Easter baskets and bags, then fill them with treats or use them for decorations.
Easter Games and Activities: Your kids will love celebrating Easter with these fun activities.

Easter Egg Hunt: Plan a fun, simple event for kids with these tips for invitations, decorations, and games.
Send an Easter E-Card: Send all the happiness, life, and joy of Easter! Browse these e-card images, then click "Select this e-card" to register and enter a personalized message.
About BHG.com
Developed by the experts at Better Homes and Gardens, BHG.com is the premiere home and family site on the Web, and the interactive companion to Better Homes and Gardens magazine. BHG.com is for people interested in turning home, cooking, and gardening inspiration into action.
BHG.com is focused on decorating, building and remodeling, crafts, entertaining, cooking, and gardening. It also has extensive information for women and families. In addition to providing useful tools and advice, BHG.com's trusted experts keep visitors informed on the latest developments and trends around home and garden. BHG.com was designed with real people in mind. It has easy-to-use interactive tools, clear visuals, step-by-step instructions, and money-saving suggestions. It makes life easier and more enjoyable.
###