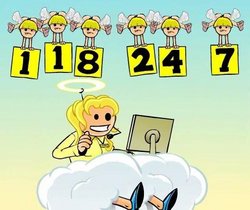 Directory heaven from Yellow Pages
Reading, UK (PRWeb UK) March 22, 2009
Yell, the international directories business, is launching its first ever stand-alone TV ads for its UK business directory enquiries service 118 24 7 based on the signature tune of cult internet cartoon character "Magical Trevor".
The three month campaign, "Directory Heaven", has a 30 second TV ad featuring a variety of humorous cartoon scenarios showing occasions where 118 24 7 is ideal for providing consumers with the business telephone numbers or service they are looking for.
Developed by creative communications agency Rapier, the campaign - that has the tail-end slogan "Directory heaven from Yellow Pages" - aims to emphasise the number "118 24 7" in a fun, highly catchy manner.
An opening scene depicts a 118 24 7 call advisor as an angel ready to help consumers at a call centre in heaven.
A jaunty rhyme regularly repeating "118 24 7" against a backing track of the "Magical Trevor" tune plays over scenes illustrating examples of the key business services people call 118 24 7 for.
These depict a cab ride, a plumber, an electrician, pension expert, ordering a curry - a scene where "Magical Trevor" himself makes an appearance - a pizza, a family requiring a kitchen extension, and the desire to find "a place to see sharks".
The ad also depicts a new service - 118 24 7 TextBack- whereby consumers can text their particular request for business information and quickly receive a text in response.
"Magical Trevor" is the creation of animator Jonti Pickering whose distinctive style and range of animated characters has developed a worldwide following on the internet. The commercial was produced through Tomboy Films which represents Jonti's work for commercials.
The TV campaign broke on March 20 and will run for a month, with two 10 second variants running for a further two months to the end of May across major terrestrial, satellite and cable channels. It will be supported by a 60 second variant on Yell's YouTube site http://www.youtube.com/yell118247 and 40 second radio ads.
There will also be a campaign page at http://www.118247.com where visitors can see the ads, download a ringtone of the theme tune and participate in a fun poll gauging whether viewers love or hate the ad.
Helen Stevenson, Yell's chief marketing officer, said: "This is an exciting new approach for us in marketing our high quality 118 24 7 service, both in the creation of a stand-alone TV ad and the use of a distinctive, fun animation and jingle to ensure our number is the one people use for their everyday needs.
Andrew Brooks, senior account director at Rapier, said: "We were looking for a new, highly memorable way to further emphasise the number and get it stored in people's heads for when they need the service."
Since deregulation of the UK's 192 directory enquiry service in 2003, 118 24 7 has established itself as one of the principal 118 providers in terms of service quality and brand.
It has won a string of accolades in recent years - including being crowned Best UK 118 service for three years running in the industry's International Directory Enquiries/Assistance Awards.
For further information on the 118 24 7 business telephone numbers and directory enquiries service, visit http://118247.yell.com.
About 118 24 7
118 24 7 is a telephone-based information service that provides in-depth, up-to-date classified business information, business and residential listings, 24 hours a day, seven days a week. More than just a number, 118 24 7 provides essential business information such as opening hours, location details, prices and special offers or even film times and summaries*. The service is also available via SMS through 118 24 7 TextBack.
118 24 7 is provided by Yell, a leading international directories business operating in classified advertising markets in the UK, US, Spain and Latin America through printed, online and telephone-based media. Yell's principal brands include: in the UK, Yellow Pages, Yell.com and 118 24 7; in the US, Yellow Book and Yellowbook.com; and in Spain, Paginas Amarillas and PaginasAmarillas.es. All these brands are trademarks.
Yell's online image library, containing product shots and logos can be found at: http://www.yellgroup.com/images
*Film summaries only available for 118 24 7 voice service.
# # #