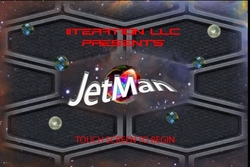 Durham, NC (PRWEB) March 24, 2009
Iteration, llc announced today that Apple has approved JetMan EV (Extreme Velocity) for release. Iteration is conducting User Acceptance Testing (UAT) via the use of Promo Codes and expects to set a Release Date by March 31.
Iteration, as its name implies, believes the best designs come by way of design iteration. To assure an optimal end-user experience, Iteration engages customers through social networking, email and testing. This is particularly important with JetMan EV because this is Iteration's first release of a true game experience. Iteration's visibility on the App Store has sky-rocketed recently, thanks to the success of their iPopCorn, Fine Button, and March Madness applications. Iteration intends to build on that momentum and their reputation for being very customer focused.
JetMan EV is designed to take advantage of the remarkable capabilities of the iPhone and iPod by combing 3D Character Modeling with fast paced 2D scrolling and professional sound. The result is an experience like no other side-scrolling game experienced to date. Users will be given the option of Tilt or Tap mode, various levels of difficulty, and will certainly appreciate being completely immersed in this game experience, especially when using their earbuds! For $1.99 the sound alone is worth the admission price!
Application Description - Get ready for a true theatrical experience with superb graphics and CD quality sound as you help JetMan complete his first iPhone mission...mining for red diamonds on the earth-like planet Carnebula. Plug in the ear-buds and prepare to be completely immersed with non-stop action. Select JetMan or JetWoman, your level of difficulty, and playing style for Tilt or Tap Mode. The longer you play the more challenges you face. Scoop up the sparkling red diamonds and increase your health by colliding with the magical white bubbles. Watch out for boulders and test your precision flying skills as speed increases along with the frequency and randomness of the exploding red and blue bubbles.
Features Include:
Choice of Characters - JetMan or JetWoman; CD quality background music
Superb SFX; Music and SFX Controls - custom slider controls for both; Choice of play mode - Tilt or Tap; Calibration - set your own default playing angle and sensitivity levels; Global Leader Board; Multiple levels that automatically increase speed and difficulty; 3 start up modes - Beginner, Advanced or Extreme Velocity
JetMan EV on YouTube
Iteration's JetMan EV on Twitter
About Iteration, llc:
Iteration was founded in September 2008. The company, located near RTP in Durham NC, specializes in iPhone applications that provide a superior user experience while taking full advantage of the amazing capabilities of the platform. Each application we release is truly an iteration of everything we have learned and feedback we have received from our previous experiences. Design Iteration web site
Contact:
support (at) designiteration (dot) com
###