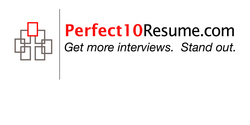 Toronto, ON (PRWEB) March 25, 2009
In a weakened economy, the competition for positions at all levels has never been greater. Perfect10Resume.com has today launched the first website in the world that helps job seekers "get more interviews," by offering free resume ratings within 24 hours. Job seekers simply upload a resume that gets personally reviewed by an expert, and an unbiased rating out of 10 is emailed back by the next day. Getting this unbiased opinion quickly enables job seekers to make any necessary changes ahead of time.
With over 12.5 million people in the U.S. searching for work, (source: Bureau of Labor in the United States), people are clamoring to apply for every available position, and many are making careless mistakes. Perfect10Resume.com estimates that 30% of resumes have some sort of typo or error.
In addition, due to the competition, an increasing number of resumes are poorly presented, incorrectly worded, or have embarrassing mistakes--which Perfect10Resume.com identifies with its rating system. Catching and fixing these mistakes in advance not only saves potential embarrassment, but also helps job seekers "stand out" from the crowd, and get back to work quicker. This new website will make every job seeker a stronger candidate no matter the state of the economy.
About Perfect10Resume.com
Perfect10Resume.com is the first online service that provides free introductory resume ratings. Our goal is help people get more interviews by providing unbiased, fast, and personalized reviews of their resume. In addition, Perfect10resume.com provides resume editing and professional writing services.
For more information, please visit Perfect10Resume.com.
MEDIA CONTACT:
Alex Skordakis
(416) 452-2729
askordakis (at) perfect10resume (dot) com
###