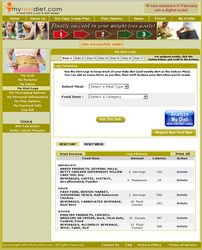 Los Angeles, CA (PRWEB) March 24, 2009
MyTextDiet.com is now offering the MyTextDiet plan, an entirely unique motivational diet plan designed to offer the user a simple, customized calorie-reduction diet combined with motivational text and/or email messaging.
MyTextDiet was created by an Engineer and Television Editor whose dieting philosophy is based on the simple core principle that seems often forgotten with fad diets and diet pills: If you consume more calories than your body needs to sustain its nominal weight, you will gain weight. Cutting calories safely is the key to the MyTextDiet plan, and the key to returning the user to their nominal weight range.
Recognizing that one of the hardest parts of any diet plan is keeping the user motivated to stick with it, the MyTextDiet has pioneered a patent-pending system of customizing a user's calorie reduction without forcing them to radically alter the types of food they eat. They have strived to create a "personal trainer" touch to keep the user motivated with targeted, inspirational messages.
MyTextDiet works by sending text messages and/or emails, at the times a user specifies just prior to each meal they eat. In addition, a user's profile contains many useful tools to aid in their personal weight management, including goals and weight tracking, picture uploading, BMI calculator, full diet logging from a massive food database with calorie and nutrition information analysis, a daily calorie planner tool, and messaging options for scheduling. The Deluxe Plan adds more in-depth nutritional analysis and the option to receive healthy snack suggestions and exercise reminders as well as everything the Standard Plan offers.
The MyTextDiet plan is currently available for a monthly subscription of $9.95 for the Standard Plan or $14.95 for the Deluxe Plan.
For additional information on the news that is the subject of this release or for a demonstration, contact Stephen Goetsch or visit http://www.mytextdiet.com.
About MyTextDiet.com:
MyTextDiet.com was created by an Engineer and Television Editor who have spent years researching diet plans and striving to create a simple, calorie-reduction plan that will keep users motivated and able to consistently stick with their goals.
Contact:
Stephen Goetsch, Owner
Rahil Bhorania, Owner
MyTextDiet.com
(818) 421-3291
http://www.mytextdiet.com
###