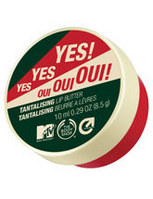 London, UK (PRWEB) March 24, 2009
Most couples in Birmingham do it twice a day while 10% of couples in Cardiff never do it. Most people get their best ever when they are around 17 years old and nearly a third of people rate it better than sex. A new survey for MTV and The Body Shop has outed the pouting of the nation from Land's End to John O'Groats.
The Big Snog Log - commissioned by MTV and The Body Shop - quizzed 4,000 people across the country about their lip-locking habits. The survey reveals that when it comes to passionately puckering up the Welsh are the most tight lipped with a fifth admitting to never doing it with their partners or at a push only in the throes of sex. The most serious snoggers live in Birmingham where 54% like to lock lips about twice daily and only 5% abstain at all times.
The study was created to launch a limited edition Tantalising Lip Butter (RRP: £5.00), which will raise money for HIV and Aids awareness and prevention among young people. Available from the 23rd March at The Body Shop stores nationwide and online, customers can enjoy the moisturising properties of the lip butter, but also make their own contribution to the cause as £3.98 from the sale of every lip butter will go to support the MTV charity Staying Alive Foundation, which this year is looking to award a grant for HIV/Aids awareness projects in the UK.
The research shows that most Brits (57%) think they're either tremendous or good at kissing. A fifth admit they can be hit and miss while only 2% confess they are not very good at all.
The Big Snog Log reveals:

Nearly a third perfect our kissing techniques using our hands, which is the highest in the country, while 10% admit they have kissed photographs and posters of sexy celebrities in a bid to up their game. A fifth of people have read up on techniques or used the web to improve their puckering up prowess
Nearly a third of people (31%) admit that they are more likely to have a one night stand with a stranger if they're a good kisser
More than quarter of people say they kiss members of the same sex for fun - with a third of men admitting to snogging a male mate during nights out
Most people experience their first good kiss between the age of 16 and 18. It's downhill from then on with only 1% of men and women finding their lip nibbling nirvana after the age of 30
Bad breath is a bigger turn off for women than for men and twice as many women as men cite an overeager "face eater" as the worst type of kisser.
While only a third of men don't like a sloppy smacker the number rises to nearly two thirds for women who say they'd rather be left high and dry than face a wet kisser
A quarter of women prefer eyes shut while men don't mind as much
Tender and sensitive kissing is the most favourite type of snog while too much "tonsil tennis" is the least favoured bit of kissing for a fifth of Brits
Toby Morgan, Values Manager for The Body Shop UK & RoI said: "There's no doubt that as a nation we love a good kiss and we wanted to find out who is doing what and what the do's and don't of kissing are in 2009. The study was a really appropriate way to launch The Body Shop Tantalising Lip Butter which we hope will raise thousands of pounds to promote HIV and Aids education in the UK and beyond."
Georgia Arnold, Senior Vice President, Social Responsibility, MTV Networks International said: "While the Big Snog Log may be light hearted it underlines a serious message that a passionate kiss can lead to forgetting about using protection when having sex. Our research shows that 70% of young people in the UK are still having unprotected sex because they do not know the risks they run. We need to raise money to ensure organisations can continue to get the message out there that these people need to think condoms in a bid to stop becoming an HIV/Aids statistic."
In the past MTV's Staying Alive Foundation and The Body Shop have raised £1.1m for projects around the globe. Celebrity backers of its work include R&B songstress Kelly Rowland and rap artist Travis from Gym Class Heroes who is the charity's ambassador. For more information go to http://www.sayyestosafesex.com
Britain's Most Prolific Puckerers by region - those who kiss passionately at least one a day:
1. Birmingham
2. London
3. Bristol
4. Cardiff
5. Newcastle
6. Glasgow
7. Manchester
8. Liverpool
###