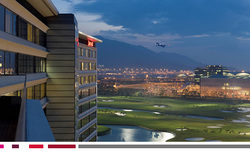 Don't Look Back in Anger.
Washington, DC (PRWEB) March 24, 2009
Marriott Hong Kong SkyCity Hotel, adjacent to the Asia World Expo Center, is a local Hong Kong hotel offering 5-star amenities for hotel guests who book stays during the upcoming Oasis and Sarah Brightman Symphony concerts.
Oasis brothers Liam and Noel Gallagher bring their resume of worldwide rock and roll hits to the AsiaWorld Arena - the largest indoor seated performance venue in Hong Kong, as a part of their sold out Asian Tour.
Formed in Manchester, England in 1991, Oasis' trademark sound derives from influences ranging from the Beatles and Rolling Stones to the Sex Pistols and the Smiths, translating into chart-topping songs like "Wonderwall," "Champagne Supernova," and "Don't Look Back in Anger." Oasis received their highest honor in February, receiving the NME Award for the Best British Band of 2009.
The World Tour of the Sarah Brightman Symphony will also return to Hong Kong's Asia World Expo Center on April 1, 2009. Sarah Brightman first performed in China at the 2008 Olympic Games, and has been a world-reknown pop soprano icon.
Connected to the Expo Center, the Hong Kong SkyCity Marriott Hotel is just a one-minute walk away, features everything you'll need both before (a selection of six delectable bars and restaurants) and after (a full-service Quan Spa offering massages, steam rooms and therapy baths) the concert.
This Lantau Island hotel is centrally-located, and offers convenient access to Hong Kong attractions such as Disneyland, Cheung Sha Beach and iSport, as well as transportation hubs like the Hong Kong International Airport and the newly-opened Macao CotaiJet terminal.
For more information, or assistance in planning your accommodations for the Oasis and Sarah Brightman concerts, please contact the Hong Kong SkyCity Marriott Hotel's concierge at 852 39691888 or visit http://www.marriott.com/hotels/travel/hkgap-hong-kong-skycity-marriott-hotel/.
###