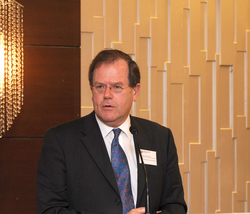 (Vocus) March 24, 2009
Student enquiries, applications, registrations, examinations and graduate numbers were at an all time high in 2008, making the 150th Anniversary year exceptional in history for the University of London External System.
Over the past five years, the External System recorded:

An 83% increase with 110,00 individual examinations taken in 2008 compared with 60,000 in 2003 across the world, encompassing more than 180 countries and 100 plus study programmes.
A 45% increase with 32,000 candidates taking these examinations in 2008, compared with 22,000 in 2003.
A 41% increase in student registrations – 43,000 students in 2008 compared to 30,500 in 2003.
A 47% increase in applications - 16,000 in 2008 compared with 10,900 in 2003.
A 50% increase in awards made to students of the External System, with 6,000 undergraduate and masters degrees conferred in 2008, compared to 4,000 in 2003.
A 48% increase with 45,000 active student registrations in 2008, compared with 30,500 in 2003.
The student services departments within the External System played a key role in supporting and sustaining this growth; they did this by providing invaluable information to enable students to make informed choices concerning their study, curriculum and administrative requirements. During the course of 2008, staff handled more than 150,000 enquiries.
Professor Jonathan Kydd, Dean of the External System, said he was delighted with the burgeoning numbers and attributed this success to 'committed staff that always put the student's interest first'.
He added: "We are absolutely delighted with the results that have been achieved through the collaborative efforts of our staff, the Lead Colleges that provide academic direction for our study programmes, the local teaching institutions in all corners of the world, but, more importantly our students who recognise the high value of an academic award from the University of London. I think from these results we can say that the External System is truly the first for global student choice."
Professor Kydd added: "Another contributing factor to this success must have been our 150th Anniversary celebrations last year. The Anniversary paved the way for even greater opportunity to meet with leading figures all over the world as well as our students throughout the course of our celebrations. I have no doubt that in doing so, our public relations activity enabled us to re-affirm our position as a market leader in the delivery of transnational education. This activity also gave us a real opportunity to receive direct feedback from the people that deliver our programmes and their students. From the feedback that we received it is very clear that our qualifications open doors and provide people with opportunities that would otherwise not have been available to them."
"I would like to take this opportunity to thank everyone involved, including the constituent Colleges of the University of London, in helping to make the External System what it is today – a provider of quality Higher Education that is recognised for innovation and academic excellence worldwide."
Notes for Editors
The University of London External System
The University of London was established in 1836 and is one of the oldest, largest and most diverse universities in the United Kingdom.
The University's founding principle is to provide education for all, irrespective of race, creed or political belief.
In 1858, the University of London was granted its fourth Charter, which paved the way for the establishment of the University of London External System.
The University of London External System is a unique global network of 45,000 students in 180 countries, on more than 100 study programmes.
The External System has been instrumental in the formation of British higher education – all English and Welsh universities founded between 1849 and 1949 offered University of London degrees before obtaining Royal Charters to award their own degrees.
Between 1946-1970, the External System played a significant role in establishing many Commonwealth universities under a unique scheme of 'special relations'.
Through the External System higher education was made available to a much wider range of social classes; it pre-empted 20th Century developments in open, flexible and distance learning by more than 100 years.
Famous former students and alumni of the External System include six Nobel Prize Winners: Sir Frederick Gowland Hopkins, Professor Ronald Coase, Wole Soyinka, Derek Walcott, ex-President Nelson Mandela and joint winner Dr Rolph Payet.
For further information about the External System, please visit: http://www.londonexternal.ac.uk
For further information contact:
Binda Rai
Head of Global Media and Public Relations
University of London External System
Tel: +44 (0) 20 7862 8545 (office)
07920 476483 (mobile)
Peter Quinn
Senior Communications Manager
University of London External System
Tel: +44 (0)20 7664 5584 (office)
###